Part of the cycle of life
By YIP YOKE TENG, Photos by LOW LAY PHON, The Star, June 16, 2007
Petaling Jaya, Selangor (Malaysia) -- She wakes up every morning feeling grateful for having water supplied to her house. She collects the water she uses for washing up and reuses it to flush the toilet, mop the floor or clean the bathroom.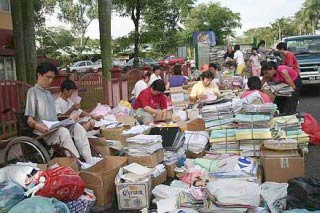 << Devoted: The Tzu Chi Buddhist Merit Society collects recyclable items at some 100 collection points around the Klang Valley on the third Sunday of every month.
At her stall in Taman Megah, the vegetarian food seller reuses the water used to wash rice grains to clean utensils and cutleries. She gives larger portions to customers if they bring their own containers. She also collects rainwater for other purposes.
That has been 53-year-old Tang Shook Lin's way of life for more than 10 years.
However, she said she is only one of the many thousands of Tzu Chi Buddhist Merit Society members who are practising that every day. They do not just do that among themselves and their families. They spread the word aggressively through workshops and seminars, in a bid to rescue the "aged and ailing" planet earth.
Collecting recyclable items has become a custom since the society first preached and practised environmental conservation in 1992 in Malaysia.
Day in and day out, they salvage recyclable items from their households and surrounding areas. They include the aged, ill and disabled, who were helped by members of the society and now want to be "someone who gives rather than takes".
This group of people includes former leprosy patients in Sungai Buloh. Moved by Tzu Chi members' compassion and perseverance, they started recycling so that they, too, could help the needy and contribute to environmental conservation.
The number of ex-patients has dropped from 400 about a decade ago to about 100 now, but the amount of their collection is now so much that it takes two lorries to ferry the items every month.
The society collects recyclable items at some 100 collection points around the Klang Valley on the third Sunday of every month.
About 1,500 volunteers are involved in the task, which requires them to separate the items according to various categories and send them to specific destinations to be sold. Money collected is channelled to charity.
"I remember once I sorted out more than 10 bags of waste papers into the seven paper categories. I bent my back from 10am to 3pm to do that, it hurt so much. The papers were then sold and we received quite a good sum. I was so happy! We could use the money to help needy persons; my backache was not an issue anymore," recalled Tang.
On top of all that, Tzu Chi members practise the "five approaches to recycling" suggested by society founder Rev Cheng Yen, who is a Taiwan-based Buddhist nun.
"Reverend encourages us to infuse recycling into daily life, family, soul, the younger groups, and at the same time gain knowledge pertaining environmental conservation," said another recycling volunteer, businessman Chong Wei Seng, 41.
Chong said Tzu Chi members use what they call the "Three Treasures of Recycling", which is a cloth bag containing chopsticks, a bowl with cover and a water container, to cut down on the use of plastic bags and Styrofoam containers.
They car pool or take public transport to minimise the production of carbon monoxide. They bring handkerchief so that they do not need tissue paper, which "kills" trees.
He added: "One should also recycle spiritually by cutting down yearnings, don't take too much when you can't use them all, don't just seek convenience at the expense of wasting natural resources."
Talks and workshops on the subject have been held regularly at housing estates.