All you need is love
By LOKE POH LIN, The New Straits Times, July 5, 2007
At a Buddhist centre in Petaling Jaya, a Nepali monk is preparing a two-year-long course in Buddhist teachings for devotees and others interested in Buddhism. LOKE POH LIN speaks to Geshe Tenzin Zopa.
Petaling Jaya, Selangor (Malaysia) -- NESTLED in the Section 17 housing estate of Petaling Jaya is a serene bungalow, the spiritual home for Buddhists who follow the Mahayana tradition.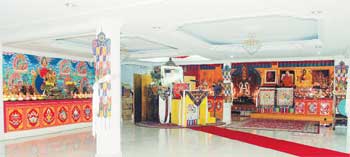 << SERENE: The main prayer hall at Losang Dragpa Centre.
Colourful knots adorn the front doors to bid visitors welcome. The main hall inside is sparkling clean, prayer cushions and tables neatly stacked in a corner.
Beautiful Buddha images grace the various altars in the room, with a profusion of floral offerings lining the tables.
It all began when three Malaysians met at Kopan Monastery in Nepal and decided to learn more about Buddhist teachings.
They sought permission from their teacher, Lama Zopa Rinpoche, to start a study group, in Ampang Jaya.
By 1995, Losang Dragpa Centre (LDC) was officially bestowed with its name by the Rinpoche. Three years later, an appointed resident teacher arrived to take up a full-time residence at the centre where, by then, Buddhism classes, consultations, pujas and philosophy classes were being conducted.
From Ampang, the LDC moved to rented premises in Bukit Damansara before finally securing the spacious house in Section 17. "Everything was right when the time came to move here," said Lillian Too, president of the LDC. "The house became available, we had the funds and it went smoothly from there."
LDC's current resident teacher, Geshe Tenzin Zopa, is a distinguish scholar and disciple of a learned and esteemed teacher, Geshe Lama Konchog.
His presence and contribution to Buddhist scholarship in Malaysia over the next few years will be the foundation stone upon which future generations of Mahayana Buddhist teachers will be trained.
But his work goes beyond teaching. "My work also involve social services such as taking care of sick people. Sanghas (Buddhist clergy), on invitation, minister to the dying and the critically ill, including some cases where doctors have given up. We help through prayer."
Devotees also come to consult him on a variety of matters — "on relationships and education of children for example" — but his main activity is to teach.
And what he teaches is summed up in one word: love.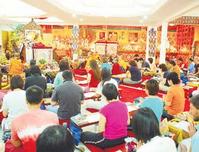 IN SESSION: LDC is blessed with the personal attention of Lama Zopa Rinpoche, its teacher and spiritual leader >>
"My aim is to share loving kindness, compassion, to teach that Buddhism is not merely to be embraced as a religion. The main principle is to share, to be kind, that is the essence of Buddhist teachings," Geshe Tenzin said.
"The Buddha asked us to cultivate two aspects. The right view is one, that is, to think that every single situation or existence is based on cause and condition.
"Then secondly, habit and action. If you cannot benefit others, then the least you can do is not harm them. This is a simple monk's principle. I try to share this with people, rather than be so serious about Buddhism. I think (it is) the greatest message that I can share.
"It's not necessary that who I talk to is a Buddhist or not. I am happy if they are freethinkers or otherwise because I respect their beliefs and their rights. I teach and talk loving compassion."
This message is imparted to children at the centre, so that they may begin on the gradual path to enlightenment.
They are taught good manners, to cultivate respect for parents and teachers, and to be kind to younger ones. "I also send a strong message to students that Buddhist dharma (teaching) is a lifestyle. It has merit as long as you can integrate it into your daily life. Otherwise, no matter how great a scholar you are, you will still be an empty being."
Geshe Tenzin believes in openness, even though monks have certain codes of behaviour to follow. "I do not hide myself in a room distanced from the people. Everyone can feel free to talk to me. I am very open-minded," he said.
"What is the most important thing now is to cultivate people relations, respect and care for the students. Newcomers should be greeted with kindness, smiling faces and a cup of water. When they enter LDC they should feel welcomed," he concluded.
LDC supporters are looking forward to Sept 19, when Khenrinpoche Lama Lhundup, abbot of Kopan monastery in Nepal, arrives for a three-week visit. (Kopan is the mother temple of LDC and has 160 centres worldwide.) The abbot will be conducting teaching sessions and blessings at both LDC and LDC's sister centre in Penang, and other places.
Geshe Tenzin Zopa's plans to teach Buddhist dharma to Malaysians may well lead to a new era in teaching Buddhism in Malaysia, as few can match his lineage and training. He will be introducing major teaching programmes in philosophy, Buddhist tenets, such as an overview of other religious tenets and mind transformation or mind training.
He explained, "My class is more like an introduction. It's open to members plus outsiders. We welcome everybody."
He will be conducting a two-year-long basic course, an intensive programme which provides a complete basic knowledge of Shakyamuni Buddhist teachings. It involves philosophy, stages of the Path and the message of compassion. Classes will be held at least twice a week, of 1½ hours' duration each. The group will have to be committed students as the organisation will be certifying this course.
"Then we have a master programme which will take a few years to complete. It's similar to an university education. Not religious education but human ethics, following the ethical formula which can be applied to daily life to free oneself from addiction, stress, free from any kind of life failure, to be a good human being. I'm still setting up a programme on this. Hopefully this will happen soon," he added.
The objective of all this teaching is to educate Malaysians so that they can in turn pass the knowledge on to others who seek dharma teaching. The centre is open throughout the year.
Losang Dragpa Buddhist Society
1, Jalan 17/21F, 46400 Petaling Jaya.
Tel: (03) 7968-3278 Fax: (03) 7956-7280
www.fpmt-ldc.org