14th Tzu Chi Malaysia Charity Fair raises RM300,000 for its outreach work
Story and pictures by PERCY D'CRUZ, The Star, July 5, 2007
Malacca, Malaysia -- The 14th Tzu Chi Malaysia Charity Fair in Malacca once again proved that Malaysians are a caring lot. The fair raised about RM300,000 (US$ 85,700) from members of the public from all walks of life and different faiths.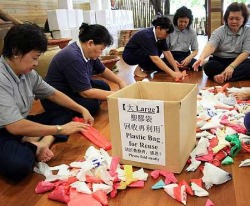 << Chores: Members helping in recycling activities
Even Bangladeshi migrant workers attached to a local garment factory set up a stall to sell their country's traditional delicacies and food snacks while rendering proceeds to a worthy cause.
Stalls selling vegetables, farm produce, sundry goods, household rations, vegetarian fare and foodstuff did brisk sales while a jumble sale, book and souvenir fair and exhibition of the society's activities also drew large crowds.
According to David Liu, chief executive officer of Buddhist Tzu Chi Merit Societies of Malaysia and Singapore, the society was involved in programmes and outreach work that paved the way towards enriching the quality of life and enhancing lifelong learning and education.
"Over the years, apart from the charity sales, we are receiving an encouraging and regular response by way of cash and kind towards the running of numerous charitable services and projects for all in need irrespective of religious beliefs.
"Also, a host of volunteers and caregivers are on call to collect recyclable items, assist in relief work and distribute food rations and medical supplies to communities, both local and overseas, in times of natural disasters and related calamities," he said
"Dedicated volunteers also help in many in-house activities that deal in personal growth and development ranging from yoga to floral arrangement," said Liu.
Chen Sau Peng, 58, from Seremban, makes it a point to be at Batu Berendam to support the charity sale each year.
"My late grandfather received much financial assistance and medical care from the society in the mid 1990s. I will never forget the good work the society's volunteers and members did for my grandpa during his time of need," he said.
Factory supervisor Tommy Leong Yuen Bin from Muar, who came with his aged mother and two teenaged daughters, commended the society for the kind work they did all year round.
He expressed interest in becoming a volunteer after his retirement in two years time.
Francis Lim, a teacher from Masjid Tanah, said that those who were fortunate and had good things in life should not shirk from their civic responsibility to offer money and things in kind, and also spend effort and time in worthy causes and service towards the needy.
Tzu Chi offices can be found all over the world with no less than fifty aid centres in the United States alone.
In Malaysia, there are about a dozen such action-oriented centres in both the Peninsula and East Malaysia.