50 couples tie the knot together on 07/07/07
By CHRISTINA LOW, The Star, July 9, 2007
Kuala Lumpur, Malaysia -- MANY couples tied the knot over the weekend, because of the auspicious date of July 7, but for environmentalists Michael Phuah and Ricole Woo, there was another reason besides the significant numbers: it was the day when people around the world celebrated World Earth Day.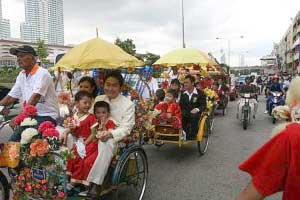 << Wedding parade: The 50 couples are taken on a parade around Brickfields. Led by youths on foot and a horse carriage, the convoy included vintage cars, golf buggies and even trishaws (picture), as well as a specially designed float.
"Most of us forget how important it is to care for the earth until we really think about it seriously; that was why Ricole and I chose to be married today," said Phuah, during the Buddhist Mass Wedding ceremony held at the Buddhist Maha Vihara recently.
The 29-year-old groom and his 25-year-old bride are Penangites and had never attended any mass wedding ceremonies before.
"This is the first time I am at such a ceremony although I had occasionally read about similar events in the newspapers." said Phuah, whose family came from Penang to celebrate the occasion with him.
The mass wedding celebration started at 8am when all the 50 couples took their vows before the temple's registrars of marriages. They then proceeded to the hall where a mass wedding blessing session was held, led by the Maha Nayaka Thera of Malaysia, the Most Venerable K. Sri Dhammaratana Maha Nayaka Thera, who was assisted by Venerable Meng Ji together with 50 other monks.
The session included the sprinkling of holy water, tying of holy string, taking of religious marriage oaths, and exchanging of wedding rings by the newlyweds.
"This is the first time this temple is organising a Buddhist Mass Wedding celebration after having been established here for more than 100 years," said Dhammaratana.
He added that as he did not have any experience in organising such an event, he had to seek guidance and information from the devotees and was happy that the occasion was a successful one indeed.
Deputy Higher Education Minister Datuk Ong Tee Keat, who was the guest of honour, presented the newlyweds with their marriage certificates and souvenirs before the couples marched out of the hall to a convoy of vintage cars, Mini Coopers, trishaws and a wedding float waiting for them.
They were taken on a short ride around the Brickfields area, accompanied by a lion dance troupe, a Bhangra drum troupe and a horse carriage led by Ong, Dhammaratana and Bukit Bintang MCA chairman Datuk Dr Lee Chong Meng.
"The event was also part of the celebrations for country's 50 years of Independence and Visit Malaysia Year," said the Ven. Dhammaratana, who is already looking forward to next year's mass wedding celebration.