Suburb's only Thai Wat (Temple) celebrates 50th anniversary
By TAN KARR WEI, Photo by NORAFIFI EHSAN, The Star, July 30, 2007
Chanting, talks, offering of food to monks part of activities.
Petaling Jaya, Malaysia -- DESPITE the heavy rain, Buddhists devotees joined in the celebration to mark the 50th anniversary of the Thai Buddhist Chetawan Temple in Jalan Pantai, Petaling Jaya recently.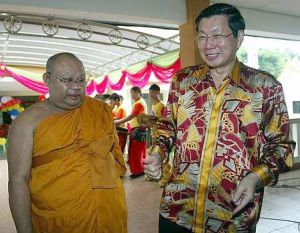 << Tan and the Venerable Phrakhru (left) at the opening ceremony of the Thai Buddhist Chetawan Temple's meditation hall.
To commemorate the occasion, the temple organised special events like chanting, dhamma talks, Maha Sanghika Dana (the offering of food to monks), video screening on the life of the Buddha and a blood donation campaign.
As part of the celebrations, Deputy Home Affairs Minister Datuk Tan Chai Ho officially opened the new Dhammasala, or meditation hall, and the temple's refurbished main shrine hall.
Tan congratulated temple chief abbot Venerable Phrakhru Sophitchariyaphorn and the management committee for successfully seeing these projects through.
Tan added that one should practise patience, tolerance and understanding in a multiracial society like Malaysia.
"Regardless of race or religion, we should regard one another as brothers and sisters in a happy family," he said.
In the new Dhammasala, the High Chief Priest of Southern Thailand Phra Dhamrattanakorn presented a Chatukham amulet as a token to donors who contributed RM5,000 and above.
Temple secretary Datuk Sa Wai said the construction of the Dhammasala costs RM2mil and the funds were from public donations.
The cost of the shrine hall renovation was RM1.2mil.
"After 20 years, we're renovating it again. The craftsmen were specially flown in from Thailand and it took them seven months to complete the refurbishment works," he said.
The refurbished shrine hall was officially opened in grandeur as guests witnessed the raising of the Cho Fa onto the ridge of the roof, the highest point in the temple.
The monks performed a blessing ceremony before Tan officially started the raising of the Cho Fa.
Cho Fa literally means sky-tassel. It represents the mystical bird Garuda and is considered a guardian.
"We refurbished the shrine hall because the old roof was made of wood and over the years it started to rot," said organising committee member How Eng Keong.
He said the old Cho Fa was also made of wood and that the new one was made of concrete.
A lion dance troupe accompanied Tan and other invited guests into the shrine hall where he signed a plaque commemorating the opening of the refurbished hall.
Bukit Gasing assemblyman Datuk Dr Lim Thuang Seng was also present at the ceremony.
The Chetawan Temple donated RM3,000 each to Kasih Hospice Care Society, Taman Megah Handicapped and Disabled Children's Home, The Community Service Centre for the Deaf, Ti-Ratana Welfare Society and Maha Karuna Foundation.