Shanghai temple's goodwill show
By Dennis Chua, The New Straits Times, Sept 29, 2007
Kuala Lumpur, Malaysia -- THE Maha Karuna Buddhist Society and Dong Lim Xiao Ju jointly present the Shanghai Jade Buddha Temple Goodwill Cultural Show on Nov 19 and 20 at Menara PGRM, Jalan Cheras, Kuala Lumpur.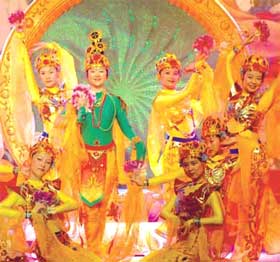 << Performers at the Shanghai Jade Buddha Temple Goodwill Cultural Show
A 100-member musical and cultural troupe from China's Shanghai Jade Buddha Temple will present a colourful musical and dance extravaganza on its maiden visit to Kuala Lumpur.
The temple is a much-respected Buddhist organisation in China and it represents two schools of Mahayana Buddhism, namely the Chan and Pure Land. The school was founded in 1882 and contains two Jade Buddha statues which made their way to China from Myanmar.
Buddhist orchestras have always been integral to Chinese culture. The temple formed its cultural troupe, the Shanghai Jade Buddha Temple Buddhist Orchestra on Oct 10, 1999, to introduce Chinese music and dance to the younger generation.
The orchestra and troupe have performed in China and Hong Kong, and have been widely praised for the colourful and stylish costumes and sets, meticulous preparation, and graceful choreography.
The Maha Karuna Buddhist Society is based in Jalan Bulan FU 5/F, Bandar Pinggiran Subang 2, Shah Alam. It is a non-profit organisation established in 2001, under the guidance of Malaysian Buddhist chief high priest B. Sri Saranankara Nayaka Maha Thera, to serve the needy irrespective of ethnic, religious or social backgrounds.
In 2003, the society established the Maha Karuna Compassionate Home, a senior citizens' home. The following year it set up the Maha Karuna Buddhist Centre to serve the community in Subang 2, Subang Jaya.
It also runs a mobile clinic which provides free medical services to rural patients and a senior citizens' home in Taman Midah, Cheras, Kuala Lumpur.
The society's vision is to conduct Buddhist education and training, implement leadership and personal development programmes, set up a multimedia library and promote social welfare and charity.
Admission to the 7.30pm concert is by invitation, and donations are welcome.
Call Ng Hong Pau at 012-238-9161 or A.K. Nelson at 012-292-0747.