Bogus monks an issue
By Sheridan Mahavera, The New Straits Times, Oct 23, 2007
Johor Bahru, Malaysia -- Though it has been publicised countless times, bogus monks continue to fool people into giving them money despite the best efforts of Buddhist groups to educate the public.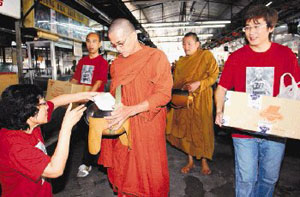 << NO MONEY, PLEASE: Devotees from the Metta Lodge Buddhist centre giving food to the monks.
The monks' continued presence, said a major theravada Buddhist group in Johor Baru, was due to either public ignorance or the assumption that divine blessings could be obtained by giving them money.
A recent programme conducted by the Metta Lodge Buddhist Centre at the bustling Jalan Sri Tebrau wet market to educate people about donations to monks illustrated this ignorance.
The group had brought along a few monks who had been staying at their centre for alms-giving rounds so as to show the public that monks did not beg - they merely walked, accepting whatever the public wanted to give them.
The group's members had to turn away individuals who would approach the monks with cash, on the pretext of seeking blessings for their businesses.
"Sadly, people still do not know and continue to give cash and this is what attracts bogus monks.
"If the public does not give cash or think that they can get divine favours by doing so, then these imposters will disappear," said Metta Lodge Buddhist Centre chairman Heng Chai Teet.
Heng was referring to syndicates operating in the city whose members don monk robes and fool the public into giving them money at restaurants and coffeeshops.
Monks are revered by the Buddhist community and giving them alms, such as food, clothing, medicine or shelter, is common practice.
"But receiving money and any other material possessions is antithetical to monkhood.
"Monks only make their rounds in the early morning."
The group will continue to conduct these alms-giving rounds every month to educate the public and show how monks behave on their rounds.