An engrossing exploration of mind and happiness
by Lim Kooi Fong, The Buddhist Channel, Nov 18, 2007
The Fifth Global Conference on Buddhism (GCB5) gathers some of the world's foremost meditation practitioners and Dharma teachers to share experiences in transforming the mind to achieve happiness
Petaling Jaya, Malaysia – A Tibetan mind training master once said, "I have no other task than to stand guard with a short spear of antidote at the entrance of my mind. When the afflictions are vigilant, I too am vigilant; when they are relaxed, I too am relaxed."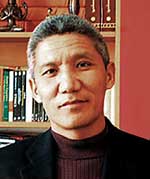 << Geshe Dr. Thubten Jinpa: The practice of lojong (Tibetan mind training) helps to regain control of our own mind
In describing the heart of his spiritual practice as simply as standing guard at the entrance of his mind, this master was underlying the point of that taming, purifying and transforming the mind lie in the heart of the practice of Buddha Dharma.
This was in essence, the core of lojong, a Tibetan term for "mind training".
With such enthralling explanation of using an ancient technique to tame the mind, it was no wonder that the 800 plus audience attending the two day conference sat transfixed, with pin drop silence.
In his talk on "Taming the monkey mind - lessons from Tibetan Lojong", Dr Thubten Jinpa from Canada asks a simple question: "How do we regain control of our own mind?"
And also how do we cleanse it, tame it and transform it so that we can bring out all the potentials for perfect enlightenment that are naturally present within it?
In explaining the practice of lojong, Dr Jinpa says the technique is encapsulated in the training of two aspects of the awakening mind (bodhicitta). One, the conventional awakening mind to counter self-cherishing, and two, the ultimate awakening mind to counter self-grasping.
He also said that one of the more beautiful aspects of lojong as a method of mental transformation is that it can be cultivated, enhanced and applied not only during a formal sitting meditation, but also during post-meditation activities. "This helps to bridge our spiritual practice and everyday life," he says.
---
Stay tuned
The Buddhist Channel will be broadcasting videos of all the presentations from GCB5 from November 26, 2007
---
On questions of antidotes that we need to apply against our afflictions, the lojong teaching admonishes one to "overcome all errors through a single means," principally the practice of compassion. "Practitioners are advised to use compassion as the overarching principle in other spiritual practices," he advises.
In essence, this is called tonglen, the practice of "giving and taking". The meditation involves visualization of giving away one's own happiness and good fortune to others and taking upon oneself their suffering and misfortune.
"This visualization practice is combined with our respiration, whereby we breathe in, we imagine taking from all other beings their suffering, negative traits and behavior. As we exhale, we imagine giving to all beings our happiness, good karma and virtuous traits," he explains.
Dr Jinpa says that it is a human natural tendency to "reify what we deem to have special value for us". It is therefore imperative that "when our Dharma practice begins to be effective in countering our afflictions – especially our self cherishing – there is a danger that we might end up grasping at the very means itself," he warns.
"And so it is important to free the remedies themselves in their own place, so that the practitioner does not grasp emptiness as an absolute."
No shortcut to Samadhi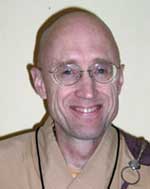 << Ven Heng Sure
In another talk, Ven. Heng Sure says that it was probably a greater challenge today to concentrate and purify the mind than it was during Buddha's time. "We are surrounded by random noise, confusing images, media saturation and the tug in the marketplace," he points out.
Nonetheless, he says that the human potential for awakening is no different from Buddha. "We still use the human mind to accomplish the task the Buddha faced more than 2,550 years ago," he says.
The venerable explains that genuine stillness in meditation depends on how one uses his or her six senses (eye, ear, nose, tongue, body and mind). There are no shortcuts to samadhi, he says, since "one has to experience a thorough 'closet cleaning' before meditation brings peace to mind."
"The (six) senses are linked at some level and they interact in a profound way so that when the mind is opened in meditation, memories emerge intact - not like a dream - but with sight and temperature and emotional content," he explains.
To covert mastery of the senses, Ven Heng Sure suggests the use of syncretic approach towards meditation. And so sitting, reciting and bowing are all expedient means (upaya).
"If we can calm and purify the mind, then walking, standing, sitting and lying down all expresses the compassion and wisdom of the Buddha," he concludes.
Five other presenters contributed to the discussions yesterday. They are: Ven. Robina Courtin (Helping prisons find freedom), Ajahn Brahmavamso (Living life with a purpose), Ven. Aggacitta Bhikkhu (Potentialities of the developed mind) and Dr Tan Eng Kong, (Transforming difficult relationships).
The conference concludes today.
---------------------------
The Buddhist Channel will be broadcasting videos of all the presentations from November 26, 2007.