Buddha Rupa casting ceremony
The Buddhist Channel, Nov 20, 2007
Petaling Jaya, Malaysia -- A special ceremony for a casting of a Buddha Rupa has been set for Sunday, April 6, 2008 in Bangkok, Thailand. The completed Buddha Rupa will be donated to to a new branch monastery of Wat Phra Chow Dhon Luang, located in Chiengmai, Thailand. Ajahn Thong Daeng is currently the Abbot.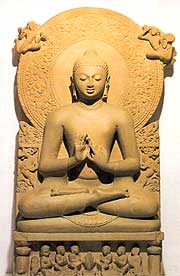 << The Buddha image modelled after the Original Sarnath Buddha th Rupa, 5 Century AD exhibited at Sarnath Museum, Utar Pradesh, India
Modelled after the Original Sarnath Buddha, the casting of the Buddha Rupa image, (1m x 2m / 40" x 80") is organised with benefits of merit-making, for those living and the dearly departed. The intended date of the offering is proposed for Kathina next year, 2008.
Venerable Ajahn Plein, Ajahn Prasid, Ajahn Thong Daeng, Ajahn Jandee, Ajahn Brahmavamso & Ajahn Nyanadhammo are some of the Venerables who have kindly consented to initiate this casting ceremony.
Devotees are invited to participate in this ceremony and to partake in the casting of the Buddha Rupa. This can be done either through monetary contributions or other contributions in kind, in the form of personal items (except coins) in gold or silver with precious stones removed. Following the Thai tradition, these personal items will be added to the molten bronze in the casting process.
At the requests of some devotees, 99 pieces of small replicas of the Buddha Rupa, of about 8" - 10" in height, will also be produced.
However, voluntary contributions of 3,000THB (RM 320, US$ 96) towards the production cost of each replica are most welcomed from devotees who may be interested in acquiring these replica.
Any surplus of funds from all contributions received will be utilised for the funding of the construction of the 1 1/2 km access road to and other developments of the new branch monastery of Wat Phra Chow Dhon Luang.
If you wish to help
To indicate your interest in this ceremony, please provide the following information:
Name:
Contact details: (tel / email address )
Names of dear ones ( living / departed) for whom you wish to share this merit-making with:
Form of participation:
a) Cash Contribution
b) Gold/Silver Contribution (except coins)
For more information, please contact:
Bro Aaron Lee - 012 327 6060 / Bro Mun Yee - 012 311 7868
c/o Sukhi Hotu Sdn Bhd
11A 1 Floor Jalan SS 24/8 Taman Megah 47301 PJ Selangor
Tel: 03 – 7806 2833 Fax: 03 – 7806 2733
Email: shotu@streamyx.com
www.sukhihotu.com