Lama to invoke blessings for devotees who suffered in floods
New Straits Times, Dec 23, 2007
Kota Tinggi, Johor (Malaysia) -- TIBETAN lama Losang Sze-chern will conduct a dharma talk and perform a Jambala Puja (prayer for blessings) at the MCA Building in Kota Tinggi on Dec 30 and 31.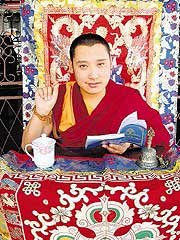 << DHARMA TALKS: Lama Losang Sze-chern will clear common misconceptions about Buddhism
In Tibetan Buddhism, Jambala embodies the wealth deity aspect of the Buddhas of the past, present and future. He grants longevity and prosperity.
The lama, who is from the Larong Metropolis Buddhist Academy in Sichuan, China, has been involved with the dharma for more than 15 years.
Losang said some misguided Buddhists offer incense to the Buddhas, chant mantras, refrain from killing and practise vegetarianism, in the hope of worldly gain.
"They hope that by accumulating merit, they will stay healthy and wealthy.
"Some even hope that by doing so, they are able to remove demerit accumulated in their past lives.
"These are wrong dharmas which are practised merely for worldly merit and for the purpose of individual gain. It helps little, if any, to achieve enlightenment.
"I am here to explain to devotees the real meaning of Buddhism -- which is to practise the teachings of Buddha in a selfless manner," he said.
He added that there were devotees who chanted mantras for years but did not know what the chanting was for.
Losang will also speak in detail on the different Buddhist teachings, including Theravada, Mahayana and Vajrayana Buddhism.
May Wong, one of the organisers for the lama's visit to the country, said he would also be giving talks on the "six realms of existence" of Buddhism and clear some common misconceptions about the religion.
A dharma talk on basic Buddhism will also be conducted for children aged between eight and 12.
The puja is made possible by a group of Buddhists from Johor Baru, who invited the lama to the state for the express purpose of invoking the blessings and protection of the enlightened beings, and quelling the fears of devotees affected by last year's floods.
Enquiries may be directed to May Wong at 016-7844307.