Living like monks for two weeks
By CHRISTINA LOW, The Star, January 3, 2008
Kuala Lumpur, Malaysia -- Every year a group of people who want to experience the ascetic life of monks spend two weeks doing just that at the Buddhist Maha Vihara in Brickfields, Kuala Lumpur.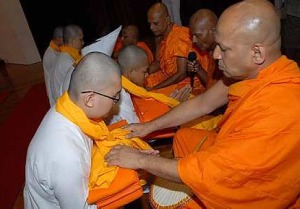 << Initiation ceremony: Chief High Priest of Malaysia The Most Ven K Sri Dhammaratana Maha Nayaka Thera (right) placing a belt around a novice's neck to signify the start of the programme.
These individuals, ranging from secondary school children to grandfathers, are participants of the temple's annual Novitiate Programme which has been around since 1975.
Participants of the programme must obey the strict rules which all of the temple's monks adhere to.
The rules include not bringing handphones, computers and any other valuable items during their two-week stay.
Among the 50 people who attended the programme this year was 29-year-old marketing associate Eugene Tham.
"I'm happy to have been given the chance to experience life as a monk even if it means sacrificing my holidays and the use of my daily gadgets.
"Leading a monk's life is so simple, not materialistic and there are no worries to it," said Tham who admitted that he joined the programme with only general knowledge about the religion.
"I want to be more in touch with my spiritual side and learn how to apply it in my daily work and social life," said Tham.
He confessed that he needed a break from work as working in a fast-paced industry had made him an impatient man.
Pamita Jayawardena, 18, who is an Upasikha ( Female Preceptor), said her father had always told her about the programme and how much he had learned from it.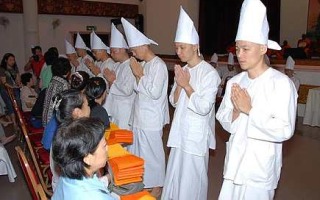 Introduction: The male novices, also known as Samanera, paying their respects to their parents before their robes are handed over to them >>
"My father was in the programme 30 years ago and he had always told me that the knowledge he gained in his two weeks' stay at the temple was far more than what we learned in the Sunday Dhamma School at the temple," said the A Levels student at Tunku Abdul Rahman College.
The daily routine for the 50 individuals began with a chanting and meditation session at 5am followed by vegetarian breakfast, Dhamma talks from senior monks and notable speakers, lunch, study sessions with tea breaks in between.
The day ends at 9.30pm when they are all ushered to their rooms.
"Besides not having my playstation here, we also do not have the luxury to sleep on a bed," said Melvin Lee, 14 who sleeps on a simple mattres in a dormitory he shares with nine others.
Lee who studies at the St John's Institution said it was his third participation in a Noviatiate Programme and he was eager to enrol himself in more such programmes in the future.
"I joined the programme in other temples before this and I am excited to be in this temple for the first time," said Lee who proudly announced that his Buddhist name was 'Vajirananda', a name selected for him by a senior monk from the temple during the start of the programme.
Each novitiate is given a Buddhist name at the start of the 14-day experience.
Parents and friends of the individuals are allowed to visit the noviates at the temple grounds.
Over the years hundreds have graduated from the programme.
The programme is in its 32nd year and currently under the guidance of the Chief High Priest of Malaysia Ven K Sri Dhammaratana Maha Nayaka Thera and Rev Mahinda
"By participating in the programme, they can understand each other better while parents would also learn to be closer to their children.
"The young are usually not interested to know about religion and would avoid the topic whenever they are asked about it,
"Here, we try to introduce them to religion and let them realise its importance in their lives," said Dhammaratana.
"At the end of the 14-day programme, some participants leave with a changed attitude while others would start applying what they have learned with their friends or loved ones," he said.
Every year the 133-year-old temple receives hundreds of applications for its yearly Novitiate Programme but only short-listed applicants would be eligible to participate. Applications for next year's programme will open in August this year.