The temple that changed a town
By LOONG MENG YEE, The Star, February 18, 2008
For the past few Chinese New Year celebrations, the Dong Zen Buddhist centre in Jenjarom, Malaysia has been drawing millions of visitors with its beautiful decorations, lanterns and flowers. More importantly, long after the tourists have gone, Dong Zen continues to be a beacon of light to the locals in this Chinese new village in Selangor.
Jenjarom, Malaysia -- About two decades ago, no one messed with Jenjarom new village - better known as a gangster hot spot rather than as the producer of quality ginger that is in demand nationwide.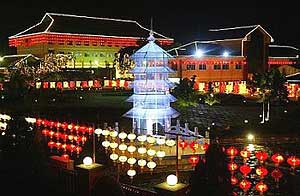 << A gem: The Dong Zen Buddhist Temple has put Jenjarom on the tourist map.
Back then, gang fights could break out in restaurants right in the midst of dinner, and outsiders shied away as word of the town's infamy spread.
"Word travelled about this village being a place of tar, tar, saat, saat (fighting and killing in Cantonese). My friends from outside the district refused to come here," said long-time resident Ang Boon Seng, 40, an insurance million-dollar roundtable agent.
It was in the midst of such an unsavoury reputation that the folks of FGS Dong Zen Buddhist Temple set foot in the village after a local here donated a two-acre piece of land in 1987.
Dong Zen devotee Hong Chi Seng, 64, recalled the hue and cry created by some new villagers suspicious of the temple as a cult from Taiwan out to snare their children to become monks.
Some parents were absolutely forbade their children from attending events at the temple.
Hong remembered heart-wrenching stories of such forbiddance. For instance, there was a young man who attempted suicide by jumping into the river because his parents refused to let him attend Buddhism talks at the temple.
"There was another young man. His parents refused to let him attend the temple although he pleaded with them. They were so fearful we would turn him into a monk.
"The youth went on to work for a loan shark. One day, he was shot dead while on his debt collecting rounds. Was this fate better than letting him come to the centre?" Hong asked.
Despite that, the Dong Zen folks pressed on.
"Many of the new villagers here pray for the sake of ritual. Come every first and 15th days of the month, or during Chinese festivals, they will dutifully offer their prayers - going through the rites but not actually practising the religion.
"This is where Dong Zen differs from the house temples. Dong Zen teaches Buddhism as a way of life, that you not only pray for good fortune to bestow upon you, but you are encouraged to practice living out daily the loving kindness preached by Buddha," said Hong, himself a former chief of one of the house temples in Jenjarom.
The centre slowly gained acceptance when its members continued to offer support to the local community, especially when the community faced emotional struggles, such as the death of loved ones.
"Previously, there had been cases of people going crazy because they could not accept the deaths, as if there was no reason for them to live after their husbands, or wives or children died.
"We offer words of comfort the Buddhism way, telling them that births and deaths are part of the cycle of life; for the need to let go and continue living to the best of our ability and in the process, spread loving kindness.
"Such words allay the grief and gives them support to continue living positively," said Ang, a team leader in one of the organisational committees there.
Buddhism also taught about karma (retribution), an ideology that struck a cord very close to the hearts of gang members in the new village.
"Many repented and forego their wayward ways because they were afraid their bad deeds would come back to haunt them. In this sense, the death of a tai kor (gang leader) who used to live here served as a grim reminder.
"He was powerful and controlled nearly everything, but he died young after being shot in gangland style while having dinner in a restaurant in Kuala Lumpur a few years ago," said Ang.
However, Ang admitted the tai kor was an enigma. He allegedly ran foul of the law and engaged in unsavoury businesses, but he also donated towards the construction of the temple and threw his support for its existence in the new village.
"It goes to show, everyone has both good and bad in them. Even now, the gangs leave us in peace," said Ang.
For the past four years, Dong Zen has also helped put Jenjarom new village on the tourism map. Its annual lantern and flower festival had drawn about five million tourists from all over the country, boosting the local economy.
Among the VIPs who had been Prime Minister Datuk Seri Abdullah Ahmad Badawi's visit last year. He was only supposed to stay half-an-hour, but instead, he remained for two hours.
"Datuk Seri Abdullah's visit, it was a very crucial moment for us, not only did it send a powerful message of inter-faith acceptance, but it was the moral stamp of approval for us. Even the PM finds the temple a gem, what else is there for the detractors to say?" asked Ang.
Jenjarom new village safety and development committee chairman Ang Leng Chai, 46, said Dong Zen had brought immense change here. "Putting the village in the tourism spotlight makes the local authority more attentive. Infrastructure development is faster and more well-planned.
"More importantly, it gives the locals a sense of pride. This is a powerful motivation to spur the villagers to lead better lives, to move away from bad habits and aim higher," said Leng Chai.
He added that the village was started in 1949 by the British during the Emergency era to cut off locals from Communists.
Incumbent Teluk Datuk state assemblyman Datuk Ei Kim Hock, who was instrumental in getting the Federal and Selangor state government to recognise Dong Zen as a tourism attraction, said Dong Zen was a fine example of how a religious institution could work hand-in-hand with grassroots leaders to transform the community.
"Temples can be influential agents for social change," said Ei.