In Malaysia's Muslim ruled state, the Buddhist Trinity is complete
By KEE HUA CHEE, The Star, April 5, 2008
Kota Bharu, Kelantan (Malaysia) -- At 8pm on Aug 8 this year, the tallest Standing Buddha in South-East Asia will be opened to the public, thus completing the three stances of the Buddha in Kelantan.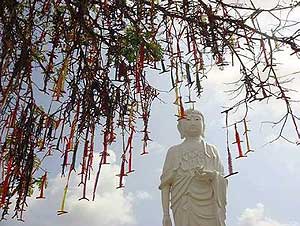 << Hopes are hung on this wishing tree looked upon from afar by the Standing Buddha.
The sight of Amitabha Buddha, porcelain white and looming over its surroundings, is a vision to behold, especially since the location is so unexpected – Wat Phothikyan in Kampung Balai, a small village 35 minutes from Kota Baru, Kelantan.
Amazingly, there are 60 large Buddhist temples, or wat, scattered all over the state. Indeed, there are more wat in Kelantan than in any other state, even though Buddhist Chinese in Kelantan only constitute 1.5% of the population.
More than 200 years ago, Wat Phothikyan was just a simple structure. The first recorded abbot here was Phra Arthikan Bok who rallied the local Thais and Chinese to build a prayer hall on a two-acre plot of land. Since the border between Siam and Kelantan was porous in the early days, many Thais lived in Kelantan.
Abbot Bok, a Thai living in Kampung Balai, instructed the monks to serve the local community. They encouraged gotong royong, whereby villagers took turns to safeguard and beautify their hamlet.
The monks became the community's moral guardians and helped the poor by providing free meals.
The abbot was succeeded by Phra Arthikan Sakmandhi, also from Kampung Balai, after his death. Two more abbots Phra Arthikan Terk and Arthikan Nop succeeded, after which – abbotless – the temple fell into disrepair until the 60s.
Finally, a monk from southern Thailand, Phra Arthikan San, came to the rescue and renovated the wat.
When he retired, the wat was abandoned again in the 70s and a secondary jungle took over. Then, in 1978, Thai consul Prapote Nakrin Ayuthaya held a meeting with the villagers to restore the temple.
After a collective agreement, a Thai monk from Tumpat, Phra Arthikan Bunkerth, was appointed abbot. In 1991, he passed away and for the first time, a Chinese was made abbot. In Kelantan, the honorific title used for a venerated Chinese monk is Por Tan rather than Phra. And so Por Tan Eu Ang Kee took the reins at Wat Phothikyan.
He was succeeded by a young and enterprising Thai-Chinese monk from Lopburi. Archan Porchai laid the foundation for success. He used fund-raising methods like herbal baths, a concept that spread like wildfire. Before long, every wat was offering floral soaks or showers for RM5-RM10 per person.
Madam Lim, a devotee, recalls: "Archan raised RM3,000, which he used to build a bath house with separate areas for men, women and families. With the hot weather, everyone was happy to have a fragrant herbal bath after a long drive from Kota Baru."
Many believed such baths helped wash away bad luck.
Today, the semi-open air herbal bath house has grown into a six- pillared modern building that can accommodate 50 people.
Archan also built a double-storey Vihara, known as the Kuan Yin Building, with a large statue of the Goddess of Mercy in the centre. The water that gushes from her vase is said to contain cures for illnesses.
The Vihara has a double staircase sweeping from both sides of Kuan Yin down, each with a coiling dragon. At the top are large images of the Buddha of the Past, Present and Future. Directly beneath are wall panels depicting scenes of hell, while the birth and enlightenment of Buddha are depicted inside the hall.
As Wat Phothikyan is now financed by the local Chinese community, the Kuan Yin Vihara resembles a traditional Chinese temple. So does the nearby Bell Tower and Temple of Laughing Buddha, which look like they came straight out of Suzhou or Hangchou.
The architectural diversity is also reflected in the historic Bord Building, the sole surviving original structure from two centuries ago. It is classically Thai.
Apart from the Standing Buddha, the most eye-catching icons here are the two colourful dragons flanking the entrance. Each head rests on an archway, with the Flaming Pearl of Immortality in the middle.
Says Thung Jee Beng, the temple's treasurer, "These twin dragons were completed on May 1, 2000. They are the longest dragons in South-East Asia at 600m. We are very proud of them."
Pride and joy
The centre of attention now is the new 33m-high Standing Buddha. Gleaming white, he looks serene. The left hand holds a lotus flower and he stands on a double lotus bloom.
Says volunteer C. S. How, "We already have a Sleeping Buddha in Kampung Beruk, Tumpat and a Sitting Buddha in Wat Machimarram in Kampung Jubakar, Tumpat. We wanted to have a Standing Buddha 10 years ago but work only started in 2002 with a budget of RM2mil.
"It is the tallest freestanding Buddha in South-East Asia. According to National Geographic, the tallest is in China!''
Many think the Standing Buddha was painted white, but it is actually made from mosaics, each piece only half-an-inch long. The mosaic has been specially treated and will hold up to the elements.
Devotees are lining up to pay RM30 for a piece of the mosaic. They are also praying for the speedy recovery of their beloved Archan Porchai, who is recuperating from a coronary bypass in Bangkok. The handsome and charismatic abbot is only 40 years old.
"Wat Phothikyan misses him very much, and we pray he will be in good health to organise the grand inaugural ceremony of the Standing Buddha this August," says How.
Archan Porchai even had a T-Rex constructed in the garden
Grins an insider, "There was some leftover building material so he thought it would be fun to have a T-Rex to amuse the children!"
--------------
If you would like to make a donation, call (Beng) 019-961 8101 or just drop by.