A splashing good time
By YENG AI CHUN and LOOI SUE-CHERN, The Star, April 14, 2008
Bukit Mertajam, Penang (Malaysia) -- A FUN atmostphere prevailed at the Penang-level Songkran Festival at Wat Rajaphohong Buddhist Temple in Ara Kuda, Bukit Mertajam, yesterday.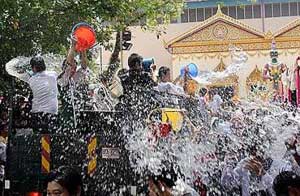 << Festival of fun: Revellers spalshing water at one another at hte Chaiya Mangalaram Buddhist Temple.
Some 2,000 people turned up for the event which marks the Thai New Year and is also known as the Water Festival. Water features prominently in the festival with devotees pouring scented water over Buddha figurines. Younger folk also poured water on the hands of their elders as a sign of respect.
Later in the day, revellers spread festive joy by drenching each other using water guns or buckets of water. Many also threw talcum powder on each other.
Jointly organised by the Malaysian Siamese Association's Penang branch, Royal Thai Consulate-General in Penang and Wat Rajaphohong, it was the first time that the state's Songkran Festival was held on the mainland.
The festival kicked off in the morning as devotees prayed at the temple and later congregated at the main hall for the chanting of Pali prayers by Buddhist monks.
There were also stalls selling food and various items while many tried their luck in a traditional Thai game called Soi Dow. Brightly coloured boxes were hung from the ceiling with participants picking one to get the number inside which indicated the prize to be won.
A highlight was a sand pagoda contest where contestants were given two hours to create their masterpieces.
Chief Minister Lim Guan Eng and the Thai Consul-General of Penang Monopchai Vongphakdi opened the festival by pouring scented water on a Buddha figurine.
A sand pagoda built by a contestant.
Over on the island, thousands thronged the Thai Chaiya Mangalaram Buddhist Temple and Bur-mese Buddhist Temple to celebrate the festival which is known as Thingyan to the Burmese and also marks their New Year.
Traditionally a time for visiting elders, relatives, friends and neighbours, Songkran has evolved into a water-splashing celebration.
Armed with water guns, water containers, plastic bottles, pails and hoses, the revellers drenched each other.
Images of Lord Buddha in the temples were cleansed in religious bathing rites to bring good luck and prosperity. There were also cultural dances and band performances.
Present were state Tourism Development, Culture, Arts and Heritage Committee chairman Danny Law Heng Kiang, Deputy Thai Consul-General Songsap Kachenchai and former Pulau Tikus assemblyman Datuk Dr Teng Hock Nan.