Activities galore for Wesak Day at Nalanda Buddhist Society
By OH ING YEEN, The Star, May 13, 2008
Serdang, Selangor (Malaysia) -- From May 17 to 19, The Nalanda Buddhist Society will be observing Wesak Day with a series of activities, such as dharma talks, blood donation drive, performances by Nalanda's students and many more.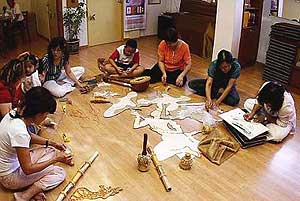 << Community spirit: The volunteers preparing for the Wesak Day celebration.
One of the highlights will be the Wesak 2008 World Peace Procession on May 19, which aims to convey the message that Buddhists are practitioners of peace and love.
Nalanda Buddhist Society adviser Tan Ho Soon said that world peace was chosen as the theme as there are many disasters and negative events in the world today.
"I feel that people are lacking in peace of mind and there is a lack of harmony in relationships between family members, religions, races and at work or in the society.
"We want to convey the message that Wesak Day is not just a religious celebration, but to cultivate peace in one's mind," he said.
This year, devotees will walk 2,552 steps as it is the number of years since Buddha's passing.
"With every step, let us wish that there may be peace in every heart, every family, every community, every country and in the whole universe," said Tan.
A unique feature in the procession is the handmade sedan, which is one of a kind in the country.
There will be three teams of four people who will take turns carrying the 30kg sedan, on which the statue of Buddha will be placed.
Tan said that the 1.6km procession route is probably the shortest in the country.
"Everything is done in a very basic manner, nothing frivolous.
"Although it is tedious as everything is hand-made, it shows our devotion," said Tan, adding that they work with limited budget and resources.
The procession, which starts at 7pm, will showcase traditional artworks, handcrafted by 60 Nalanda members, who started preparations five weeks ago.
Volunteers painstakingly decorate the Nagas (dragons), parasols (a symbol of nobility and honour) and other artworks to be used in the procession with intricate details, using recycled materials such as old greeting cards, wrapping paper and magazines.
Tan explained that by working together as a community for the community, they aimed to bring back the community spirit.
In conjunction of the celebration, monks from Sri Lanka have been invited and more than 1,000 people are expected to participate in the event this year.
Flowers and candles will be given out as a symbol to wish someone well.
For details, call 03-8948 8055/ 012-345 4448 or email info@nalanda.org.my.