Kids celebrate early Wesak Day
By CAROLYN OOI, The Star, May 18, 2008
PENANG, Malaysia -- Using special metal ladles, 378 children took turns to 'bathe' a 25.4cm tall bronze statue of Prince Siddharta Gautama, Buddha's name before he received spiritual enlightenment, with fragrant water during an early Wesak Day celebration.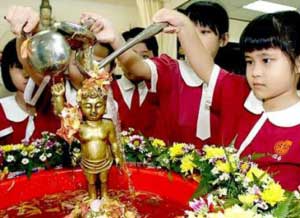 << Spiritual cleansing: Children 'bathe' a bronze statue of Prince Siddharta Gautama with fragrant water in Penang on Friday.
The Than Sing Temple kindergarten and day care centre for children aged from three to nine years old were divided into two groups for two 'Buddha Bathing' ceremonies, held in the morning and late afternoon, at the temple in Bayan Baru here on Friday.
The statue was placed in a basin decorated with fresh flowers which represented the Garden of Lumbini, Buddha's birthplace in India
Temple secretary Lim Peng Theam said that during both ceremonies, the children chanted the Heart Sutra led by the temple's sangha members before 'bathing' the statue, a Wesak Day ritual, to avoid the anticipated Wesak Day crowd of more than 3,000 devotees tomorrow.
"The children were taught about Buddha's birth during their lessons and the ritual was a symbol of purification from bad habits.
"When Buddha was born, dragons appeared in the sky spurting two streams of purified water (one cool and one warm) that gently cascaded down to bathe him," he said.
He said the children also chanted the 'Buddha Bathing' verses about purification of oneself during the ritual.
Showing that they understood the significance of the 'Buddha Bathing' ritual, Ng Zhi Yang, six and Jeremy Seow, five, said they had prayed to 'wash' away bad habits such as laziness.
Their classmate, Joey Chi, six, said she hoped to be rid of her talkative nature by 'bathing' the bronze statue.
Teng Rui Yii, also six, said 'washing away' bad habits would help her become a good girl.
On the temple's Wesak Day preparations, Lim said the temple would once again prepare at least 2,552 battery operated candles to be lighted for the lamp-lighting ceremony tomorrow to usher in the Buddhist Year 2552.
He said donation for each candle was RM30, adding that donors could put their names on the candles they sponsor.