Charity focus for Wesak Day celebrations
By TAN KARR WEI, Photos by S.S. KANESAN, The Star, May 17, 2008
Kuala Lumpur, Malaysia -- Malaysian Buddhists have been urged to focus on helping Myanmar cyclone victims this Wesak period.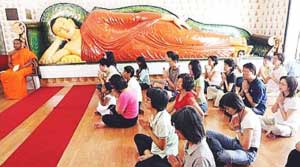 << Filling fast: The shrine hall at the Brickfields Buddhist Maha Vihara will be packed with devotees come Monday morning.
Chief high priest of Malaysia Ven K. Sri Dhammaratana Maha Nayaka Thera said the Wesak activities at the Brickfields Buddhist Maha Vihara would be toned down so they could channel more funds towards the victims.
"I'm appealing to other Buddhist organisations to reduce their expenses and contribute to the fund," he said.
Preparations for the big day have already begun, with volunteers and workers going around the temple putting up lights, preparing blessing strands and working on the rotating Dhamma lantern.
The annual float procession would take place at 7pm on Wesak Day, with about 30 temples taking part in the procession.
"We have started building our Ti-Ratana float more than a week ago," said Dhammaratana.
He said there would also be a cultural show at 7pm on Saturday featuring dances and songs from different Buddhist countries.
Devotees can also donate blood at the temple on Sunday and Monday.
For more information on events at the Maha Vihara, call 03-2274 1141 or log on to http://www.buddhistmahavihara.com.
Meanwhile, there would also be a float procession in Petaling Jaya, organised by the Chempaka Buddhist Lodge on Tuesday (May 20).
They are located at 60, Jalan SS 23/25, Taman SEA, Petaling Jaya. Phone: 03-7880 3936.
At the Subang Jaya Buddhist Association (SJBA), the lighting of oil lamps begins on Wesak Eve (Sunday) at 7pm followed by puja, dhamma talks, procession round the temple and all night meditation.
SJBA is located at 12593, Jalan Kewajipan, SS 13, Subang Jaya. Call 03-5634 8181 or visit www.sjba.org.