Malaysian Thais add colour to Wesak
The New Straits Times, May 20, 2008
KUALA LUMPUR, Malaysia -- They may be only a small group but Malaysians of Thai descent made their presence felt yesterday at the Buddha Jayanti temple in Jalan Tun Razak.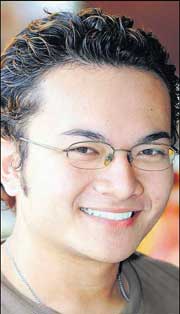 << Aikka Sit will need to spruce up his image as he prepares to join the monkhood.
The practices unique to Thai culture added colour to the Wesak Day celebrations, with monks conducting the prayers. They are from Kelantan, where there is a large Thai community.
Yesterday's event saw a dana prayer session with devotees bringing rice to serve the monks.
The rice was served after the chanting sessions led by Chief Reverend En Nit Eh Kuan.
"It is an act of selflessness, giving to the homeless and those who have given up the luxuries of life to follow a religious path," said Eh Pon Awang Din, president of the Selangor Buddhist Association, which organised the celebrations.
Devotees also donated money for the night's procession by stapling it to a Bodhi tree. By yesterday afternoon, the tree was full of red, green and blue notes.
"The significance of putting money on the tree is to make the tree look attractive and to show people the act of generosity. Buddhists believe that whatever you give will come back to you but one must not expect anything in return," said Eh Pon.
Another Buddhist practice among families of Thai descent is to send their sons for a three-month monk apprenticeship when they reach 21.
Sharean Eh Suk, 20, said he had been looking forward to becoming a monk since his primary schooldays.
"I feel honoured and since I am to be a monk next year, I have been preparing myself by chanting at night and staying away from immoral activities so that I will be pure of heart, mind and soul," he said.
His cousin, Aikka Sit, 21, who will be a monk this year, said he would need to spruce up his image before entering the monkhood.
He currently sports an earring and has dyed hair.
The young monks will not be allowed to have girlfriends or engage in sexual activities prior to, and during, their apprenticeship.
Eh Pon said Buddhist couples should also sleep separately on the night of Wesak.