Youth seek new path on Wesak Day
By Chai Mei Ling, The New Straits Times, May 19, 2008
It has been 2,552 years since Lord Buddha passed away and what used to be a day to commemorate his birthday, enlightenment and passing away, has been turned into a festival of sorts. Chief High Priest of Malaysia, the Venerable Chief Reverend K. Sri Dhammaratana Maha Nayaka Thera, tells CHAI MEI LING of the balance between staying true to the meaning of Wesak Day and keeping up with the times.
Kuala Lumpur, Malaysia -- Today, children no longer go to temples merely for the sake of accompanying their parents who are practising Buddhists.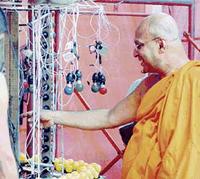 << The Venerable Chief Reverend K. Sri Dhammaratana Maha Nayaka Thera wants the Buddhist community to adopt the percepts of Buddhism.
"Those days, children used to follow their grandparents and parents to the temple, take a joss stick and pray, without understanding the meaning behind it all," says Chief High Priest of Malaysia, the Venerable Chief Reverend K. Sri Dhammaratana Maha Nayaka Thera.
"But children today want to know why popo (grandmother) is praying, which is why we must educate them.
"Our Buddhist leaders did not prepare activities in line with society's changing needs. Most organisations follow just the traditional way."
Sri Dhammaratana says these activities need not even be religious to start with.
For example, the Maha Vihara temple in Brickfields is inviting dancers from some 10 countries to perform during Wesak.
"The dance has nothing to do with Buddhism, but everything to do with culture. If we want to introduce religion to the people, it must go through culture and tradition."
The temple's Sunday Dhamma School also tries to engage children through art competitions, Wesak Day preparations and fund raising activities for their school.
It has thus far reached out to 2,000 students.
Wesak, being the most important day for the Buddhist community, presents the best opportunity to remind the younger generation of their culture and tradition.
Despite the need to tune religious outreach programmes to modern needs, it is also pertinent to ensure one doesn't sway from the true meaning of Wesak and Buddhism.
Sri Dhammaratana remembers a time when the Buddhist community throughout the world used to "commemorate" instead of "celebrate" Wesak.
It used to be, he says, more or less a religious day when Buddhists observed the eight precepts, meditated, discussed Buddha's teachings, and remembered his service to humankind.
It has now, of course, turned into a carnival.
For the second year now, Maha Vihara will observe a 15 to 30 minute silence every hour on Wesak Day for people to reflect on Buddha's teachings.
And on that day, people should not ask for favours from the Buddha, says Sri Dhammaratana.
"You pay respect to the Buddha, his teachings and his disciples.
"Blessings will come when you have strong faith, and the monk recites Buddha's virtues in correct pronunciation and with a compassionate heart."
The Chief Reverend encourages Buddhists to gradually adopt the precepts of Buddhism.
He says no matter what religion one adopts, it should be applied to daily life.
"All religions preach good things. Unfortunately, most people don't apply the teachings to real life. When they are out of the temple, church or mosque, they become normal beings who are emotional."
Malaysia, he says, will remain a beautiful country if leaders of all religions can come together and work as a family.
"Don't segregate based on religion, race and party."
Little Arnold's all excited
AT 11, Arnold Ang is already a "veteran" of Wesak Day processions.
He has been participating in processions since he was 9-years-old, and although tomorrow will be the third time he takes part, he is just as excited as he was two years ago.
"I'm very excited. I'll be going with my friends again this year," said Arnold.
Besides participating in Wesak Day activities, he also enjoys helping his parents, Lydia Chow and Richard Ang, to prepare food on the eve of the celebration.
Chow has been busy preparing nyonya acar (spicy mixed vegetable pickle) for monks and the people who visit the Buddhist Maha Vihara Temple in Brickfields - a two-decade-old tradition that she has faithfully kept.
"It's my grandmother's recipe, passed down to us.
"At first it was just my husband, my sister and me who were handling the preparation of the acar," said Chow, a housewife.
"But now, my friends and relatives have begun helping out. Now we can make larger portions.
"This year, we will prepare about 15-20kg of acar. It will be served to the monks and public when they pay homage to Buddha at the temple."
Chow said the little act of giving food to others is seen as practising generosity as taught in Buddhism.
"Wesak Day marks the birth, enlightenment and death of Buddha and we are taught to do good, avoid evil and purify the mind.
"There will be many activities too.
"We hope people will come and experience the meaning of Wesak Day."