Kinrara Metta organises dinner to raise funds
The Star, July 8, 2008
Puchong, Selangor (Malaysia) -- THE Kinrara Metta Buddhist Society (KMBS) is raising funds to build its own centre as the temporary premises is inadequate to cater to the overwhelming demand for its Sunday Dhamma School and other youth and community-based activities.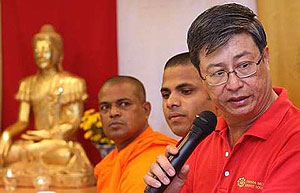 << Reaching out: Tan explaining details of the dinner.
The KMBS, a young and dynamic Buddhist organisation provides dhamma teaching to the Buddhist community in Puchong, Kinrara and surrounding areas.
KMBS president David Tan said since its formation, the demand had been increasing and the centre could no longer cope.
Tan said they had now turned towards raising funds for a centre of their own as KMBS' principle was to accept all those who were interested in attending its Sunday Dhamma School.
Tan said there were also many occasions where activities were organised with a limited number of participants due to space constraints.
"It is our intention to dedicate this new premises as a place of spiritual nourishment and peace for future generations," Tan said.
Puchong MP Gobind Singh Deo, who was the special guest at the dinner, said the KMBS was moving in the right direction in wanting their own premises as Buddhism, like any other religion, was geared towards the strengthening of moral values in individuals and instil awareness in parents and children.
"We should take advantage and participate in this unique opportunity to serve by helping the KMBS on its way towards achieving its dreams," said Gobind.
He said a new centre would become a long-term platform for bringing Dhamma closer to the Puchong community through well-organised outreach activities and fellowship.
The fund-raising dinner, serving both vegetarian and non-vegetarian dishes, will be held at the Hee Lai Ton restaurant in Seri Kembangan on July 12 at 6pm.
For details call 013-399 7725 (Tom Hen), 012-287 8105 (Paru), 012-315 9527 (David Tan), 016-270 2120 ( Julie Tan).