Residents accept Buddhist project
The Buddhist Channel, July 24, 2008
Bodhi Park project to proceed as planned after protesting residents accept explanation from City Council
SHAH ALAM, Selangor (Malaysia) -- The soft, meandering chants of monks from different traditions enveloped the surrounding of a barren 1.7 acre piece land on July 20, 2008 at Section U12, Shah Alam. The monks were present to bless the spot where a new Buddhist centre will be built, to be called "Bodhi Park".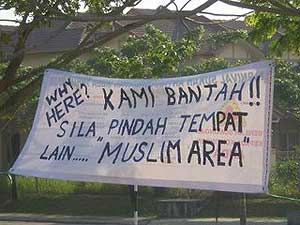 << Protest banner put up by the Desa Alam Residents Association
However, the ceremony was marred by demonstration of a small group of residents from the neighbouring vicinity. The Desa Alam Residents Association objected to the upcoming construction of the temple as they claimed that it was located too close to the residential area.
Its chairman, Ahmad Shakri Tarmuchi, handed a memorandum from the residents to Housing and Local Government Minister Datuk Seri Ong Ka Chuan at the ground-breaking ceremony of Bodhi Park on the same day.
Ahmad Shakri told reporters the residents were not informed of the project by the City Council and there was no notice board at the site announcing the project from the time they had occupied the housing estate in December 2006.
However, when the protesting residents met the Member of Parliament (MP) for Shah Alam Khalid Abdul Samad at the Shah Alam Mayor's office on July 23, they were informed that the land for Bodhi Park was allocated years before any houses were built at the site and approvals were given by the local and state authorities.
Above all, all the houses buyers at at the point of purchase had been duly informed by the developer and was aware of the proposed site for the Bodhi Park.
After the briefing. the representative of the protesters from Residents Association, Ahmad Shakri and other residents who met Khalid Abdul Samad accepted the explanation by the MP and other officers from the Shah Alam City Council (MBSA).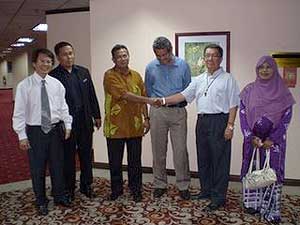 Both the chairman of the Bodhi Park Building Committee, Goh Seng Chai and Ahmad Shakri later shook hands in front of the Shah Alam MP as a sign of mutual respect and harmonius co-existence.
Present during the meeting were representatives from the developer and also MBSA councillors responsible for the areas. The project will proceed as planned and construction expected to begin in September.
About the Bodhi Park project
The Bodhi Park is to be located on a 0.68-hectare site, and will comprise an auditorium, a centre for Buddhist research and studies, a multipurpose hall, and a main shrine for devotees. The project is undertaken by the Malaysian Buddhist Youth Foundation.
In the early 1990's, the foundation bought a 0.6-hectare piece of land in Section 24 for the project but the state government found it unsuitable for religious use and offered the alternative site in November 2002, he added. Goh said the development order for the project was approved on April 24 this year and construction was scheduled to commence in September.