A gift of sight for five
By CHRISTINA LOW, The Star, August 20, 2008
Kuala Lumpur, Malaysia -- GETTING a chance to regain her sight was definitely a dream come true for Sumithra Ragavan. The 28-year-old was one of the three cornea recipients under the Buddhist Maha Vihara's (BMV's) A Gift of Sight, A Gift for Love project last year.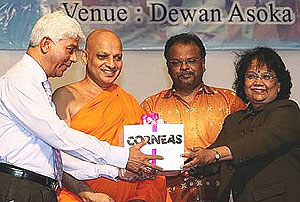 << An act of kindness: Don Dayananda Ranasinghe (left) presenting a token representing the corneas to Veera (right) while Dhammaratana (second from left) and Sasana Abhiwurdhi Wardhana president Leslie Tilak look on.
"I was surprised when my doctor told me that I had been chosen to receive the cornea for my left eye," said Pahang-born Sumithra, whose eyesight had deteriorated in recent years.
"Now I can see much better and have no problems reading and using the computer, unlike before," said Sumithra at a ceremony last weekend in conjunction with the second year of the BMV project.
Sumithra, who works as a cashier in a local hypermarket, underwent two operations last year. The two corneas she received were from donors in different countries.
This year, five lucky Malaysians have been chosen to receive corneas donated by the Sri Lankan government together with the Sri Lankan Eye Donation Society in memory of the late Ven Dr K. Sri Dhammananda.
"Even though he (Dhamma-nanda) has left us, his wonderful memories will never be forgotten," said chief high priest of Malaysia, the Most Venerable K. Sri Dhammaratana Maha Nayaka Thera, who embarks on meritorious deeds in memory of Dhammananda.
On Sunday, Dhammaratana presented the corneas for the recipients to Tun Hussein Onn Hospital director Professor Datuk Veera Ramani during a luncheon attended by High Commissioner of Sri Lanka to Malaysia Dr Don Dayananda Ranasinghe as well as guests from several associations for the visually-impaired and hearing-disabled in the country.
"It is my hope that this act of kindness will prompt the Malaysian people to be more understanding and open about organ donation.
"Being able to give someone the gift of sight is a wonderful thing," said Dhammaratana, who hopes to fulfil his dream of giving at least 80 Malaysians the gift of sight.
The event included performances by children from the Buddhist Institute Sunday Dharma School and a guest performance by the Godfrey Singers.