Zopa Rinpoche to visit Penang, Malaysia
By ANTHONY CHEW, The Star, October 7, 2008
Penang, Malaysia -- THE Buddhist fraternity can look forward to the four-day visit of Khenrinpoche Lama Lhundrup (pic), the abbot of Kopan Monastery in Nepal, to Penang from Oct 19, 2008.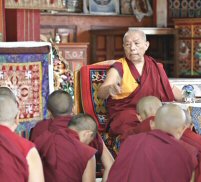 << Khenrinpoche Lama Lhundrup will be in Penang from Oct 19-22
Organised by Chokyi Gyaltsen Centre (CGC), Penang, the visit will see Khenrinpoche holding dharma lessons and a healing session.
He will conduct a consecration puja and auspicious prayers for the centre's new premises at 37-Y Lorong Zoo 1, off Zoo Road, Air Itam, at 10.30am on Oct 19.
CGC director Dr Daniel Yeoh said Khenrinpoche would teach on Samatha (calm abiding) at 7pm on Oct 20 and conduct an Oral Transmission of Heart Sutra and the King of Glorious Sutras called the Exalted Sublime Golden Light at 7pm the next day at the centre.
This will be followed by a Vajra-pani-Hayagriva-Garuda Initiation at 7pm on Oct 22 also at the centre.
Dr Yeoh said that according to renowned Buddhist Master Lama Zopa Rinpoche, the recitation of Golden Light Sutra and the practice of Vajrapani-Hayagriva-Garuda would bring benefits.
"Zopa Rinpoche said cancer is definitely related to nagas (evil spirits), and practicing deities such as Vajrapani-Hayagriva-Garuda is an effective way to protect us from contracting cancer.
"Its main function is to liberate sentient beings by pacifying their delusions of ignorance, anger and attachment, from where they re-ceive all sicknesses and harm. This is why people who have practised the meditation and recitation of Vajrapani-Hayagriva-Garuda have been able to heal themselves of cancer."
Yeoh said Zopa Rinpoche also explained that anybody who wanted peace in the world should read the Golden Light Sutra as it is a very important practice to stop violence and wars in the world, and is extremely powerful to fulfil one's wishes.
"There is so much merit created by reciting this Sutra, everything is taken care of, one's life becomes so easy, whatever one wishes for one receives, because there is un-believable purification and one collects extensive merits," he said.
Yeoh said CGC was thankful to its sponsors, benefactors and supporters for helping to raise RM340,000 during the centre's fundraising dinner in May, with the help of feng shui consultant Lillian Too.
"We bought the new premises for RM1.4mil. We paid RM280,000 as downpayment," he said, adding that further contributions to CGC's building funds would be greatly appreciated.
For details, call Yeoh at 012-3810622.