Buddhist associationís fund-raising efforts for disaster victims pays off
by CHARLES FERNANDEZ, The Star, October 20, 2008
Kajang, Malaysia -- THE Young Buddhist Association Malaysia's (YBAM) Myanmar Cyclone Disaster Relief Fund (MCDRF) and China Earthquake Disaster Relief Fund (CEDRF) initiated in May this year has received good support.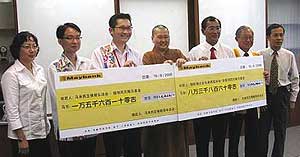 << Blessed aid: Quah (third from right) and Dr Ong (third from left) handing over mock cheques for the donations to Rev Jue for the Myammar cyclone and China earthquake relief funds in Kajang recently.
A total of RM104,548.94 was collected of which RM52,274.47 was given to the Buddhist Missionary Society Malaysia and the rest to the Buddhist Tzu Chi Merit Society to undertake reconstruction work in Myanmar.
A sum of RM104,850.15 raised from the public by the Malaysian Fo Guang Shan Buddhist Association was donated to the China Earth-quake Disaster Relief Fund.
"This was the first stage of our mission,'' said Buddhist Missionary Society Malaysia (BMSM) vice-president Quah Chi Boon.
Quah, who was in Myanmar for 10 days in June to personally oversee and co-ordinate relief work there, said for the second stage of the mission, YBAM handed over RM15,610 towards MCDRF and RM83,860 to CEDRF
The cheque presentation ceremony was held at the New Era College in Kajang recently.
Fo Guang Shan Malaysia abbess Rev Jue Cheng received the cheques on behalf of the beneficiaries.
YBAM president Dr Ong See Yew said he was happy that the Malaysian public and Buddhist organisations came forward to help victims of the two natural disasters.
"For us to do this, we need to possess compassion and wisdom. Some of them even went to the disaster sites to help at reconstruction work in both countries,'' said Dr Ong.
He said that immediately after the Nargis cyclone in Myanmar, Buddhists in Malaysia responded spontaneously with various forms of relief efforts and the sum collected through BMSM totalled RM190,716.60 of which RM30,000 was spent on the cyclone victims.
A school and a temple reconstruction is being planned and will be implemented in the second stage of the mission.