Planting the Bodhi seed
The Buddhist Channel, Feb 3, 2005
Kuala Lumpur, Malaysia -- The seed has been planted. Now is the time for watering and constant care.
This ?nature centric? message seemed to have seeped into the minds of about 400 guests when they made their way to a fund raising dinner to honour the Yayasan Belia Buddhist Malaysia (YBBM ? Young Malaysian Youth Foundation) 25th Anniversary held on Christmas day last year. The guest of honour, Deputy Home Affairs Minister YB Datuk Tan Chai Ho was clearly one of those who took to heart the ?nature? of the event, because one of the night?s key highlight was to raise funds to develop the Bodhi Park project.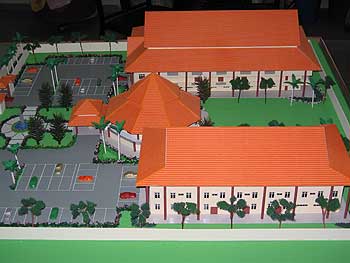 << Model of the Bodhi Park project, to be completed in 2007
?If you believe that doing good means to live with dedication and commitment to doing good, then do all you can to make this project a reality,? he asks of the guests. ?If you believe that compassion is about creating means to help those in need, then your presence here tonight indeed, is a reflection of your great compassion,? he said. Datuk Tan then demonstrated his commitment and compassion by pledging RM 10,000 (US$ 2,630) to kick-start the fund raising campaign.
Soon the cue from the deputy minister was taken and the guests enthusiastically embraced his call. One after another, pledges were signed onto donation cards. The amount, as the master of ceremony said, did not matter. What matters, is the heart to give. At the end of the night, a total of more than RM 45,000 (US$ 11,840) was pledged. Not bad for a night?s work.
But this was just the beginning. The target amount to complete the project would require a sum of close to RM 6 mil (US$ 1.58 mil). When done, Bodhi Park would become Shah Alam?s premier Buddhist establishment. Situated in Section U12 of the city, project owner YBBM intends to establish Bodhi Park as a centre of excellence for the promotion of Buddhist educational, cultural and spiritual activities to further strengthen the Buddha Sasana (with special focus on youth development) in the country.
Facilities to be developed in Bodhi Park include the following:
A main shrine that can accommodate about one thousand devotees for devotional activities
An auditorium that can accommodate more than one thousand people for the purpose of holding Conferences, Conventions, Seminars, talks, cultural and other gatherings organized by the Buddhist organizations especially those from the Universities and Colleges.
Bodhi House that will provide hostel facilities for at least two hundred participants
A Resource Centre with modern audio and visual facilities dedicated for Buddhist research and studies
An IT Centre with modern Information Computing Technology (ICT) facilities. It is expected that Bodhi Park will be the first Wi-Fi enabled Buddhist centre in the country.
A multi-purpose hall to conduct Sunday School for children in and around the area,
Rooms for meditation and other activities to accommodate the needs of the local residents.
Chairman of the Bodhi Park building committee, Bro. Goh Seng Chai said that the project will be developed according to methods which encourage ?inclusive community participation?. ?What this means is that feedback from targeted users, such as the youth groups, will be an important building block,? the veteran Dhamma worker said.
While much of the details of the building are still in its infancy, plans are afoot to enable Bodhi Park to become the first Buddhist temple in Malaysia to be equipped with an acoustic friendly auditorium. The facility will no doubt be welcomed by youth groups, as talented singers and musicians specializing in producing Buddhist hymns and songs are starved of a hall to hone their skill and ability.
Key to the success of Bodhi Park is how well the community embraces its concept as well as usage of its public utilities. Which is why the building committee, led by Bro. Goh emphasizes so much on collective participation. ?The days of ?build and they will come? mentality is over,? he said. ?We have to wisely plan what is it that the target community needs, and how those needs can be best fulfilled. This way, we can optimize our resources and provide maximum benefit for the intended users,? he explained.
While the day of the project?s actual realization is still far off (projected completion date is sometime in 2007), nevertheless effort to continuously engage with the Buddhist community on the virtues of Bodhi Park shall be an on-going affair. To this end, the building committee has established several task-force committees to look into matters relating to the project?s development.
?It will be managed in a professional manner and we will have the right people to do the right thing,? Bro. Goh emphasized. With such foresight, it is not surprising that Bodhi Park is already making a name for itself, albeit still a concept yet to be realized. Already, many youth groups (mostly non-temple affiliated ones) are providing feedback pertaining to the type of facilities they would like to see made available. Some of such ?wish lists? have been forwarded for consideration to the building committee. The committee, being community centred, is already seriously considering some of the ideas forwarded by such groups.
The fund raising dinner event last Christmas certainly served as a benchmark of what will be coming in the near future. Step by step, breath by breath, through untiring dedication of a committed group of workers, Bodhi Park will bear witness to some ingenuous activities aimed at expanding public awareness of the project. It is hoped that the general public will reciprocate the building committee?s effort by giving their support to help realize something which will bring great benefit for Buddhist development, especially amongst the youth.- The BC