Tibetan monks conduct pujas to dispel obstacles
By SIMON KHOO, The Star, March 9, 2009
Kuantan, Malaysia -- THE advent of technology had resulted in many people getting too attached with material gains, a Rinpoche (precious one) from India said.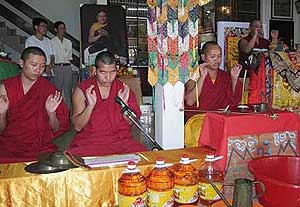 << To ward off evil forces: Drawu Meghen Tulku Rinpoche (extreme right) and his lamas chanting during the ceremony.
According to Drawu Meghen Tulku Rinpoche – instead of chasing after wealth, people should prioritise peace and family harmony.
"The world is changing but we must not forget the noble values of a human being to show love and concern for one another.
"We must continue to do good deeds and understand the teachings of Buddhism and practice it in our daily lives.
"While we work hard to gain wealth, always remember to do it with the right means and use it the right way by helping others also," he told The Star in an interview in Kuantan.
Drawu Meghen Rinpoche and 12 of his Lamas were in Malaysia recently at the special invitation of Kuantan Buddhist Dharma Society for a three-day puja (worship) programme.
The programme called 'The Great Tara's Obstacles Dispelling Puja' was a yearly event organised by the society for the benefit of its followers.
Drawu Meghen Rinpoche said as human beings, wealth was important but too much money would also bring about suffering.
He said world peace was of utmost importance and all sentient beings must display kindness, compassion and forgiveness to be happy in life.
On his latest trip, he said it was his third after the last two visits to Kuala Lumpur and Ipoh in 2007 and 2005.
"I look forward to coming again, if we are destined to meet," he said, adding that prior to his stop in Kuantan, they had performed similar puja programmes in Kuching and Singapore.
Meanwhile, the society's secretary Lai Hin Cheong said for the first time, a special fire puja session called the Red Kurukulle was held.
"This special fire puja on the last day was specially initiated due to the present economic problems.
"Those who are facing financial difficulties can seek blessings in terms of wealth and a change of fortune," he said.
Lai said a crowd of about 300 people from all walks of life participated in the programme.
He added that it was one of the two major religious events organised yearly by the society for the benefits of followers.
"The ceremony is in accordance with the Tibetan Buddhist tradition and we normally invite Rinpoches from India, Bhutan or Nepal to conduct the sessions every year.
"We also released 2,000 catfishes and 167 birds as part of the life release ceremony," he said.
Lai said they also performed offerings of naga treasure vase to sea puja, lamp lighting and burning of paper dolls and mandala to ward off maras, bad forces, diseases and sickness, accompanied by chanting from monks.
For more information on the society, call 09-5133 730 or email to hc_lai@streamyx.com.