Wesak Day celebrated on a grand scale
Stories and photos by CHEN PELF YEEN and SIMON KHOO, The Star, May 13, 2009
MALACCA, Malaysia -- More than 10,000 Buddhist devotees here took part in a 10km float and candlelight procession through the narrow streets in the heart of the historic city last Friday, the eve of Wesak.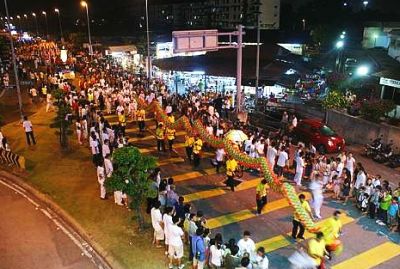 << Colourful: A dragon dance performance along the streets of Malacca during the procession.
Devotees from all walks of life gathered at one of the most venerated Buddhist temples in Malacca, the 89-year-old Seck Kia Eenh Temple along Jalan Gajah Berang at about 6pm to chant prayers before the start of the annual procession.
The procession took off at about 7pm and involved 16 colourful and brightly lit floats winding through Jalan Tun Perak, Jalan Pengkalan Rama, Jalan Laksamana, Lorong Hang Jebat and Jalan Tun Tan Cheng Lock before returning to the temple.
The floats, some bearing the statue of Lord Buddha, were accompanied by devotees carrying candles in the shape of a lotus with others carrying Wesak flags, lanterns, flowers and joss sticks.
This year, the procession saw participation from 35 Buddhist associations in commemorating the birth, enlightenment and passing of Gautama Buddha, the founder of Buddhism.
The biggest and brightest float was the Seck Kia Eenh float, decorated with a lighted mini pagoda and a statute of Buddha from the temple.
The float also included two of the temples monks sprinkling holy water on devotees as they passed along the street during the procession.
Moving alongside were numerous smaller decorated floats that were either carried or pushed in a special cart by devotees.
Besides the floats, lion dance troupes from several associations including a dragon dance troupe bearing a colourful 30 metre Chinese dragon also performed at the event.
Several school bands from SMK St. Francis, SMK Catholic and SMK Yok Bin also took part in the procession and provided the rhythm for devotees to accompany.
Devotee Lee Kian Wei, 19, who was part of a float representing Buddhist societies from six schools, said they decided not to use styrofoam for their RM700 float but instead use recycled items.
"Over the past two years, we spent more than RM1,000 to build and decorate our floats.
"However, we decided to be more environmentally friendly this year and cut cost by using recycled items such as aluminium cans and newspaper for our float," he said.
His team consisted of 20 members from SMK Gajah Berang, SMK(P) Methodist, SMK Yok Bin, SMK Canossa Convent, SM Tinggi Cina and SMK Bukit Beruang, who took about three weeks to complete the float.
IN KUANTAN, the Pahang Buddhist Association (PBA) adviser Venerable Sik Ji Xing reminded the people that nothing is permanent in this world.
"All good things including life will come to an end one day and we must be prepared to accept this reality.
"At the same time, we must also appreciate what we have presently," he told devotees while leading the Wesak prayers' at the Wan Fo Tien temple in Jalan Bukit Ubi here.
Among the 5,000 devotees who turned up in droves to take part in the ceremony were Semambu assemblyman Datuk Pang Tsu Ming, Teruntum assemblyman Chang Hong Seong, PBA president Hor Chin Sim and PBA haemodialysis centre building committee chairman Datuk Franky Chua.
Venerable Sik was joined by two other reverends from Sri Lanka throughout the ceremony, which included puja and blessing sessions, bathing of Buddha statues, offerings of tiratana, exhibition, blessing, chanting and dhamma talks.
Meanwhile, a photography contest was also held this year as one of the many side activities.
The top three winners were Wong Siew Poh who took home a digital camera and RM500, Wong Han Lim (RM500) and Lee Yau Ru (RM300).