Thai monk walks million miles on barefoot
Sin Chew Jit Poh, Feb 10, 2010
TAIPING, PERAK (Malaysia) -- A Thai monk walks 20 kilometres on barefoot a day to remind those who pursue a material life to protect and concern about mother nature.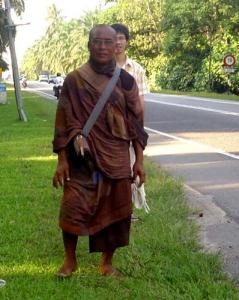 Master Jinshen started his journey from Hat Yat and arrived at Simpang on Sunday (31 Jan). After staying in Simpang for a night, he started to walk again the next day. He was heading to Singapore, Indonesia and Australia.
He stressed that his main purpose is to practice Buddhist rules and at the same time, lead the people to the path of virtue. It is also meant to develop the Buddhist spirit.
When he was staying in Simpang, he urged everyone to concern about and appreciate mother nature. Also, he promoted an environmental friendly and simple lifestyle of eating and consuming less but to walk more.
He said that he had visited many countries, including Thailand, Laos, Vietnam and India over the past 30 years. And he walked more than 10 thousand kilometres every year.
"Not many monks live an ascetic life nowadays. That's why everyone looks at me with curiosity as they think ascetic monks can only be found in books," he said.
He also said that he walks five to six hours for more than 10 kilometres everyday. He has no money but a lot of people give him alms. Although his soles are blistered and painful, he feels happy.
"Some people work hard everyday to earn money in order to pursue a material life. They destroy natural resources but they are not truly happy."
He said that it is applies to human relationships, too.
"As long as you treat others friendly and reduce hatred, you'll get a peaceful mind in return," he added.
He also advised people to be vegetarians for health purposes and to reduce killing lives.