Malaysian Buddhists raise RM 220,000 for Haiti Relief Fund
The Buddhist Channel, Apr 20, 2010
Kuala Lumpur, Malaysia -- On January 12, 2010, a powerful earthquake of magnitude 7.0 struck the town of Leogane in Haiti, the poorest country in the Americas. It was estimated that 200,000 people perished in the disaster.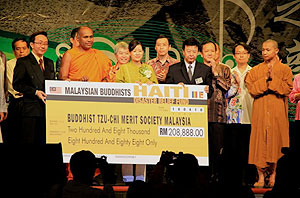 The Haiti quake is one of the modern world's worst natural disaster and recovery efforts are estimated to run into the tens of billlions of dollars and are expected to take decades.
Tragic poverty in Haiti have exacerbated the problem and it is only with the help of the global community that effective humanitarian rebuilding effort can take place.
It is with this intention that the "Haiti Disaster Relief Fund" was initiated by Malaysian Buddhists. From Feb 28 right till April 18, 2010, 45 Buddhist societies throughout the country took turns to hold chanting and meditation sessions as symbolic support for the victims of the quake.
Transference of merits to the departed were also initiated at these events. Some of the societies held oil lamp offerings as means for raising funds.
An all-Buddhist simultaenous chanting of Paritta (verses of protection) and meditation session was held in various temples on the full moon night of March 30, 2010.
These collective efforts culminated with a concert "The Sound of Compassion" held at the HGH Hall in Sentul, Kuala Lumpur (see accompanying story).
The response to the fund raising event was overwhelming, as RM 220,000 (US$ 69,000) was raised over the duration of 2 months. In addition, another RM 15,000 was raised at the concert evening itself in support of victims of a recent quake which occured in Qinghai, China.
The organising Chairman of the event Chief Monk (Judiciary) of Malaysia Ven B. Sri Saranankara Nayaka Maha Thera in his opening address at the concert expressed his heartfelt gratitude to all those who supported the event.
"This proves to show that Buddhists of all denominations in Malaysia, be it Theravada, Mahayana or Vajrayana can come together in harmony and forge common action to provide effective assistance to anyone in need, anywhere," said the Venerable.
He paid tribute to Malaysians, saying that they contributed not only in monetary terms, but also mentally and spiritually by participating in sutta chanting and transference of merits.
The guest of honour for the concert was Senator Heng Seai Kie, the Deputy Minister for the Ministry of Information, Communications and Culture, which saw about 1,000 people attending the event.
Related story: The soaring rhythm of unshakeable faith