Charity Art Auction & Exhibition to help Siem Reap children and Buddhist society building fund
The Buddhist Channel, April 24, 2010
Kuala Lumpur, Malaysia -- Three organizations have come together to organize the "2nd Charity Art Auction & Exhibition" fund raising event in support of underprivileged children in Siem Reap, Cambodia and to help raise funds for Kinrara Metta Buddhist Society - Building Fund.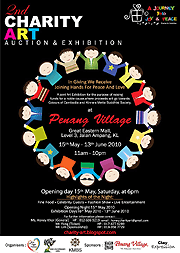 The organizations involved are Honey Child Development Centre (HCDC), Kinrara Metta Buddhist Society (KMBS) and Colors of Cambodia (COC).
The first Charity Art Auction & Exhibition was held in the year 2008 with great success.
The organisers have envisioned to continue the mission of helping underpriviledged children in Cambodia to nurture their artistic talent as well as to inculcate wholesome family values and youth development programs that leads to peace within and world at large.
Kinrara Metta Buddhist Society is an organization set up to propagate Buddhism, develop wisdom, share compassion and radiate Metta (Loving-Kindness) within its community living in the surrounding areas of Puchong, Selangor.
This year's event will be held at Penang Village, Great Eastern Mall, Jalan Ampang, Kuala Lumpur from 15 May to 13 June 2010. The highlights of the event will be the Gala Official Opening Night on the 15 May 2010, which will be graced by 200 VIP guests.
As a non-profit organizations, Colors Of Cambodia and Kinrara Metta Buddhist Society depends largely on voluntary work and contributions from groups and individuals
Contributions of any kind are greatly appreciated.
How You Can Help
Become a sponsor or supporting organization
Purchase Opening Night Gala Dinner @ RM150 per pax
Purchase Meal Vouchers @ RM60 (2 pax) andor RM500 (10 Pax)
Spread the word about the charity art exhibition in your group and community ~ Donation in cash or door gifts or promotion items
If you go:
What: 2nd Charity Art Auction & Exhibition
When: 15 May 2010 to 13 June 2010
Where: Penang Village, Great Eastern Mall, Jalan Ampang, Kuala Lumpur, Malaysia
For more details, please visit: http://charity-art.blogspot.com/
Kinrara Metta Buddhist Society webiste: http://www.kinrarametta.org/