Malaysia to host Venerable Thich Nhat Hanh
The Buddhist Channel, April 26, 2010
Petaling Jaya, Malaysia -- Eight major Buddhist organizations in the Klang Valley have jointly invited Venerable Thich Nhat Hanh, the internationally-acclaimed Buddhist monk, author, and peace activist to Malaysia in September 2010.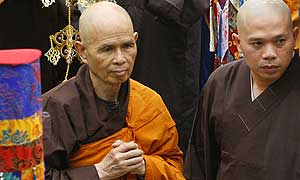 << Ven Thich Nhat Hanh to visit Malaysia in September, 2010
The eight organizations, which represent both the Theravada and Mahayana traditions involved in this project are Bandar Utama Buddhist Society, Buddhist Gem Fellowship, Nalanda Buddhist Society, Shah Alam Buddhist Society, Subang Jaya Buddhist Association, Than Hsiang Temple, Young Buddhist Association of Malaysia, and Tunku Abdul Rahman College Buddhist Society.
Venerable Thich Nhat Hanh is considered as one of the most influential Buddhist teachers in the world today. He was nominated for the Noble Peace Prize and subsequently led the Buddhist delegation to the Paris Peace Talks during the height of the Vietnam War during the 1960s.
In September 2003 he addressed members of the United States Congress, leading them through a two-day retreat. Now based in France where he established the Plum Village Buddhist community, Venerable Thich Nhat Hanh has written well over 85 titles of accessible poems, prose, and prayers, with more than 40 in English.
During his visit to Malaysia, Venerable Thich Nhat Hanh will conduct various programs for the public as follows:
5-Day Mindfulness Retreat – "The Walk of Peace and Joy"
Date : September 15 -19, 2010 (Wednesday-Sunday)
Venue : Tiara Beach Resort, Port Dickson, Negeri Sembilan
Registration Fee: From Member Organization - RM900 per adult, RM 300 per child (12 years old and below); Others: RM 1000 per adult, RM 300 per child
Early bird registration is also available for those who sign up before June 30, 2010, where the rates are: From member Organization: RM 800 per adult, RM 300 per child (12 years old and below). Others: RM 900 per adult, RM 300 per child
The Dharma Talk during the Retreat will be conducted in English but will be translated into Mandarin by Professor Cheng Chen-huang of Taiwan. The targeted number of participants is 600 persons.
A Day Of Mindfulness- "Becoming Truly Alive"
Date: September 24, 2010 (Friday)
Venue: Tunku Abdul Rahman College, Setapak, K.Lumpur.
Time: 9.00am-5.00pm
Registration Fee:
RM 100 per adult, RM 50 per student
Early bird-registration before 30th Jun, 2010:
RM 80 per adult, RM 40 per student
The language used will be English, and the targeted number of participants is 1,200. This program will be very relevant to College and university students, Teaching professionals, Mental Health professionals, Social workers and other interested parties.

Public Talk – "This is a Happy Moment"
Date: September 21, 2010 (Tuesday)
Time: 8.00pm- 10.00pm

Venue: Phor Tay High School, Lip Sin Garden, Sungai Dua, Penang
Fees: Free Admission
The Talk will be in English (but translated into Mandarin by Professor Cheng Chen-huang)
Payment to attend the fee-paying programs should be in the form of Account Payee Cheques, payable to BUDDHIST GEM FELLOWSHIP -TNH SEA 2010.
For further enquiries, please call +603-78049154/ 9157/ or +6016-3115030 (YBAM), 012-2655 246 Ms. Loh Yit Phing
You may also download the registration forms from http://www.plumvillageasia.org or http://www.ybam.org.my
Our email address is: tnh.sea.trip.2010@gmail.com
Our Fax number is : +603-78049021