Promoting Buddhism online
MySin Chiew, May 20, 2010
Ipoh, Malaysia -- We can hardly survive without computers in this technology age these days, as a matter of fact. And Buddhist monks here are beginning to turn to information technology in promoting their religion.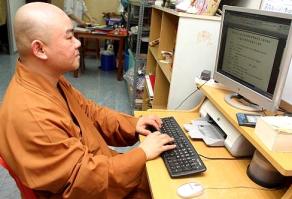 << Master Zhong Hong uses computer for typing, accessing the Internet and promoting Buddhis. Photo courtesy: Sin Chew Daily
The phenomenon of Buddhist monks using IT is not as popular in Ipoh as in Kuala Lumpur or Penang.
The abbot of Xi Zhu Zen Temple, Master Zhong Hong is among the monks who have been harnessing the information technology on a regular basis.
He said during an interview with Sin Chew Daily that if monks could master the skills of using computer, it could be turned into a very convenient and efficient tool for preaching.
Making day-to-day life easier
He said the public used to think that monks were isolated from the real world. However, as a matter of fact, they have been applying their computer skills in their day-to-day lives.
Besides, he said monks could also shop, check their account balances, and pay utility bills online.
Some monks have started using the computer even before they became monks, while some use the computer to help them prepare handouts for promoting Buddhist teachings.
In general, monks use computers for three major purposes:
1. Concentrating in a particular aspect of Buddhism such as meditation, chanting, etc.
2. Preparing sermons: Preparing short films using computer and then playing back with a projector.
3. Facilitate organisational works: Using computer to perform preparatory tasks such as text input and organise youth activities, blood donation campaign and the other events.
Facilitating word processing
A monk for almost twenty years, Master Zhong Hong started using computer for text input and sermon preparation only five years ago.
He admitted that it was indeed tough for him to handle the computer during the initial stage, nevertheless he agreed that the computer had made his life a lot easier as it helped reduce his paper work and save the environment.
Today, he is using computer to access the Internet, search for important information as well as sharing his views on Buddhism with the youngsters.
Answering questions online
Master Zhong Hong currently maintains an account with the most popular social networking site Facebook to share information with other Buddhists and answer questions posted by the public.
Through Facebook, he can understand more about the thoughts of young people, majority of whom, as he found out, have lost their ways, full of worries and uncertainties towards their future. Furthermore, he also found them lacking the goals of their lives through their indulgence in online games.
Master Zhong Hong is currently engaged in raising funds for the reconstruction of Xi Zhu Zen Temple and organising a Buddhist concert in Ipoh, and his competency in using the computer has helped him tremendously in his preparatory works. (Translated by LIM LIY EE/Sin Chew Daily)