Hell's Kitchen chef to prepare vegetarian dishes for Wesak Day
By CHRISTINA LOW, The Star, May 26, 2010
KUALA LUMPUR, Malaysia -- British chef and television personality Gordon Ramsay will be in town on Friday to cook up a special vegetarian dish for Prime Minister Datuk Seri Najib Tun Razak and thousands of people visiting the Buddhist Maha Vihara in Kuala Lumpur for the Wesak Day celebration.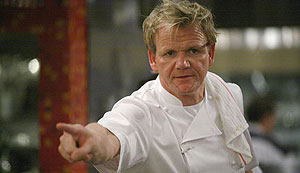 The famed celebrity chef best known for his acid tongue and television shows such as Hell's Kitchen, The F Word and Ramsay's Kitchen Nightmares, will prepare a special vegetarian dish at the temple's kitchen in the morning.
According to Buddhist Maha Vihara president Leslie Tilak, the chef's production crew found out about the temple through a local food blogger who had attended the temple's Sri Lankan Fiesta in March.
"She (the blogger) wrote about our fiesta where we had a popular Sri Lankan chef, Pablis Silva around.
"Ramsay's production crew read about it and asked her what other interesting events would be taking place and we told her about the upcoming Wesak Day and soon everything fell into place," said Tilak.
Ramsay's team had been visiting the temple for the past two weeks to check out the place to prepare for the event. "He will be here to learn a dish from our devotees and prepare it for the Prime Minister, but we have not decided on the dish yet," said Tilak.
Unfortunately, he said the public would not be able to catch Ramsay cooking "live" as his production crew would be busy filming him at the back of the kitchen for a show.
This will be the first visit to the temple by the Prime Minister and his wife Datin Seri Rosmah Mansor.
They are scheduled to arrive at 9.30am where a host of activities had been planned including the handing out of donations to three selected homes, the planting of a tree as well as eating the vegetarian lunch prepared by the devotees and Ramsay.
Earlier in the day, Buddhist devotees would see the hoisting of the Buddhist Flag and the launching of Wesak celebrations at 7am followed by the observance of the eight precepts, Hil Dana (breakfast) to the Maha Sangha, blood donation and organ donation campaign all taking place on the temple grounds.
A candle-light procession from the temple to the city centre and back followed by an open air blessing service will also take place starting at 7pm.