Don't give alms to 'monks' on the streets
The Star, July 20, 2010
Penang, Malaysia -- THOSE who give donation to monks on the streets are performing bad deeds indirectly, said Yayasan Belia Buddhist Malaysia (YBBM) director Datuk Ong Ka Chuan.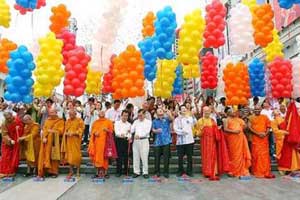 << Off they go: VIPs, the Sangha and members of public releasing ballons to launch the National Maha Sanghika Dana 2010 ceremony organised by the Yayasan Belia Buddhist Malaysia in Penang on Sunday.
He said they were wrong in assuming that they were performing meritorious deeds.
Ong said monks who were often seen begging for alms or selling Buddhist items at food courts, coffee shops and markets were actually unemployed people.
"The act of such bogus monks have greatly undermine the noble image of monks.
"I urge the public not to give alms to monks begging for alms on the streets.
"It is akin to performing bad deeds when you support these bogus monks.
"Alms giving to monks are mostly carried out in temples or at designated sites. It is not done in markets or along streets," he said in his speech at the 20th National Maha Sanghika Dana at the Penang Times Square here on Sunday.
About 300 monks from all over the country attended the ceremony. At the function, more than 1,000 Buddhist devotees gave donations and offerings to the monks.
The event is an act of giving food, medicines and other requisites to a group of homeless ordained people, who have renounced the world, called the Sangha (monks).
The concept of performing the dana (an act of charity) is based on Buddhist beliefs that when a person dies, he or she can be reborn in varied states and the dead are able to receive merits done on their behalf by relatives and friends.