Inspiringly Tibetan, Truly Asia
by Jamie Khoo, The Buddhist Channel, Dec 17, 2010
A New Tibetan-Style Sanctuary Opens In The Heart of Suburbia
Petaling Jaya, Malaysia -- It is indeed a celebration of Malaysia as being "truly Asia" in its multi-cultural diversity with the opening of a new Tibetan-inspired sanctuary in the heart of SunwayMas Commercial Centre in Petaling Jaya.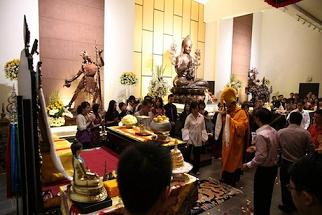 How could anything that is even remotely "Tibetan" add to the richness of our contemporary lifestyles, you might ask?
Little does the public know, Kechara House is the non-profit organisation behind many community projects in Malaysia that have touched the lives of many people since its establishment 10 years ago in the year 2000.
Among these include Kechara Soup Kitchen which distributes 1,300 packets of food to the homeless every day, and Kechara Animal Sanctuary which is dedicated to accelerate its efforts in rescuing and re-homing abandoned and abused animals from the streets.
Kechara Media & Publications, on the other hand, has published many inspirational books on the art of living and the transformation of the mind, as well as on aspects of spirituality that transcend racial and cultural barriers.
Kechara House celebrated its 10th anniversary recently, commemorating 10 years of hard work and community service with resounding success. From a small shoplot when it first started, Kechara House has grown into an organisation comprising 13 departments with a work-force of nearly 100 full-time staff.
What is most amazing however is that most of the funds towards these community projects are through sponsorships and donations by benefactors from the community itself, whose lives have been touched by the works and spirituality it inspires.
In conjunction with Kechara's 10th anniversary, a new Gompa or "main prayer hall" was officially opened on November 27, 2010 by the organisation's spiritual guide, His Eminence Tsem Tulku Rinpoche, to the delight of its many members, students, volunteers and spiritual aspirants.
Through the kindness of many sponsors, four adjoining shoplots were acquired and donated to build the new Gompa, not for any other reason, but solely to accommodate the growing number of members who are congregating at Kechara House to learn more about the universality of its Buddhist philosophy and spirituality. With this larger space, Kechara House anticipates many more activities to bring even more benefit to the community and to lend even greater support to their existing members and spiritual practitioners.
As part of the opening ceremony, guests were treated to a spectacular interpretation of a Vajrayogini dance, a contemporary expression of Enlightenment in the female form by Margaret Lee, who is also an artisan of traditional Tibetan Thangka art.
Next, flickering candles lit up the night as Kechara children made their entrance, dancing to the dramatic chants of Migtsema chorals in tribute to the great Tibetan saint Lama Tsongkhapa, while a riot of colours burst into a lively Tibetan dance bringing the celebration to a crescendo at the opening of the new Kechara House Gompa.
"Everyone is welcome for a visit or even a guided tour of the Gompa which is surrounded by various departments of Kechara," says Datuk May Phng, Kechara House president and a senior member of Kechara House.
"The Gompa itself can accommodate up to 700 people when formal teachings are held, and it houses multi-purpose rooms and an outlet specialising in Buddhist items to support the spiritual practices of members and full-time workers," she adds.
The most arresting experience for visitors to the Gompa is an encounter with three larger-than-life statues that are the first of their kind in Malaysia. Awesome and inspiring in their countenance, "these Buddhist statues are custom-crafted and consecrated specially for this new temple," Datuk May enthuses.
In the vicinity of the Gompa, visitors can also extend their discovery into the other departments of Kechara House. Kechara Saraswati Arts is a Himalayan-style studio that is the first in Southeast Asia to re-live the tradition of Himalayan spiritual arts.
Kechara Media & Publications is where you can catch a glimpse of how spiritual books, including graphic novels, are conceptualised, written, translated and published.
At Kechara Care, the first impression you receive is like that of walking into a sophisticated yet casual lounge, hosted by friendly personnel who are on hand to assist new visitors with information about the inspiring world of Kechara.
The highlight of Kechara Care is The Gallery, offering visitors a pictorial tour of the Kechara organisation and its remarkable vision of the Kechara World Peace Centre (KWPC) which will be the first of its kind in Southeast Asia to promote learning and to nurture understanding and spiritual development in a modern, contemporary age. As such, it is considered extremely auspicious to be a part of this altruistic vision.
All these innovations and unconventional approaches are somewhat contrary to what you would expect of a Buddhist organisation. It would seem like a new era of spirituality is flourishing at Kechara House – bringing the young and old together, nourishing urban lifestyles with a strong sense of responsibility for the community, and applying the essential principles of Buddhism with relevance to daily life.
Upon closer interaction with Kechara members, you would also discover that they are a happy and contented lot and to this, they credit their spiritual guide – His Eminence Tsem Tulku Rinpoche whose incarnate status was officially acknowledged by His Holiness, The 14th Dalai Lama.
"His Eminence has given me new and refreshing ways of looking at the world around me. After years of receiving his practical, relevant teachings on spirituality, I've been much more empowered to do things that I never thought I could and empower other people to find more purpose and meaning in their lives," says Dato' Ruby Khong, President of Kechara Soup Kitchen and winner of the Golden Heart Award for community service.
"Ultimately, it is Kechara's vision to establish a sanctuary in Malaysia influenced by Buddhist philosopies to provide teachings for peace and harmony for many of us. It is also a sincere way for Kechara to give back to the community at every level," concludes Datuk May, as everyone looks forward with great anticipation to the next exciting chapter of Kechara House, following the official opening of the new Kechara House Gompa for the community, by the community.