Buddhist College of Singapore launches new $35 million building for monastic students
by Melody Zaccheus, The Straits Times, Sept 10, 2016
SINGAPORE - The Buddhist College of Singapore now has its own $35 million building, placing it in a better position to serve its students - monks from the region.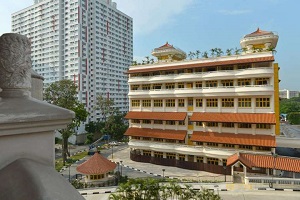 << The new Buddhist College of Singapore building is housed within the Kong Meng San
Phor Kark See Monastery compound in Bishan. ST PHOTO: ALPHONSUS CHERN
The building within the Kong Meng San Phor Kark See Monastery compound on Bright Hill Road in Bishan, was officially opened by PM Lee Hsien Loong on Saturday (Sept 10).
The six-storey building, which took more than two years to complete, includes a basketball court, gym, meditation hall, offices, classrooms and dormitories for its 100 students.
The college, which is also celebrating its 10th anniversary, gets about 100 applications for its degree programme each year - up from the 40 in its first year.
The programme is capped off at 50 students every two years. A total of 70 undergraduate and 11 postgraduate students have since passed through its doors.
The college was founded by Venerable Sik Kwang Sheng, the abbot of the monastery. It is the only institution here to offer formal graduate and postgraduate education specifically to Buddhist monks.
PM Lee, congratulating the college, said that it is fulfilling its vision of nurturing Buddhist leaders for Singapore and the region.
He noted that Buddhists are the largest religious group in Singapore, and have been helping the needy, funding scholarships and bursaries, and operating clinics, among other things.
The community has thrived here, because its leaders, such as Venerable Kwang Sheng, understand the context of the multi-racial society and have a strong sense of service to the community, said PM Lee.
PM Lee added: "In Singapore, many different religions live side by side. We accommodate and adjust to one another, we respect each other's beliefs and practices, we build bridges and mutual trust, and thus we all live harmoniously together regardless of race and religion."
Speaking to The Straits Times, Venerable Chuan Sheng, the vice-rector of academic affairs, believes students are attracted to the college as it offers two streams - one in Chinese and another in English. It is one of the few in the region to do so.
He added: "We're also riding on Singapore's position as an education hub. It is in a good location. We started less well-known but now we have become well-known among monks in countries such as Sri Lanka, Cambodia, and Vietnam."
The programmes are in partnership with Sri Lanka's state university, the University of Kelaniya, and the Mahachulalongkornrajavidyalaya University in Thailand.
At the Buddhist College, students are under scholarship which means lodging, food and textbooks are covered by the monastery.
There are also plans to roll out a research institute and introduce more exchange programmes with Buddhist institutions in the region.
Founder Venerable Sik Kwang Sheng said that he is committed to providing Buddhist education "even with Singapore's limited Buddhist resources".
Noting the role of the college, he said its graduates have moved on to run temples, administrative work in monasteries, and even teach in other colleges.