New acting president at Singapore Buddhist Lodge
by Leong Weng Kam, Straits Times, Jan 31, 2017
Tan Lee Huak aims to strengthen confidence of devotees and promote Buddhist teachings

Singapore -- Since last Friday night, more than 20,000 devotees have visited the Singapore Buddhist Lodge in Kim Yam Road, as they do every Chinese New Year, to give offerings, exchange greetings and pay respects to their ancestors.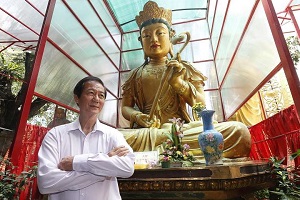 << Mr Tan says the lodge gets about $10 million in donations from the public each year, and it is the lodge's duty to ensure the money goes to those in need.ST PHOTO: CHEW SENG KIM
Few, however, know of the recent change of leadership at the 83-year-old Buddhist temple and charity institution in River Valley.
Businessman Tan Lee Huak, 69, an active clan and Chinese community leader, has been acting president of the lodge since late November, after Mr Simon Kuah resigned from all his leadership posts.
Mr Kuah, like Mr Tan, was a board member and former vice-president. Mr Kuah had taken over the leadership from long-time president Lee Bock Guan, who died in August 2015, aged 70, due to kidney failure and other complications.
"The temple has gone through a difficult time after the death of our late president," said Mr Tan, who is also president of the Chinese medicine group, Science Arts Company.
Some members, including the late Mr Lee's daughter Lee Chin Chin, have been questioning management practices and irregularities in its finances since last May, and the Commissioner of Charities met the lodge's 14-member board and senior managers in October.
Meanwhile, the temple's chief executive, Ms Neo Bee Noi, 56, who started as a clerk in 2008 and rose to the top post in 2013, quit and left a week ago. Members said she could not see eye to eye with the new leaders. She was replaced by Mr Teo Choo Hwa, 51, who did not become CEO, but served as a senior manager in charge of administration. He has administrative experience from time spent at the Lian Shan Shuang Lin Monastery and Singapore Chinese Chamber of Commerce and Industry (SCCCI).
Said Mr Tan: "We will not have a CEO because the post was never in our Constitution." He recently appointed a group of six voluntary advisers to help him run the temple. They include former civil servant and SCCCI secretary-general Lim Sah Soon, Chinese clan and community leader Wan Shung Ming, and accountant Lim Lee Ming.
Mr Tan, the youngest of three children, had a tough childhood. His father died when he was five, leaving his mother to raise him and his two sisters. He was the only one to go to secondary school, but had to start work without going to university.
"I know what it is like to be poor, and helping out as a volunteer at the Buddhist lodge has been very meaningful to me," said Mr Tan, who is married with no children.
This month, the temple gave out over $1 million in hongbao to more than 3,000 public assistance recipients, who got $250 each, and a further 8,000 senior citizens in old folks' homes, who got $10 each.
In April, it will distribute its annual bursary awards totalling over $1 million to more than 1,000 needy primary to tertiary students. It also provides three free vegetarian meals a day at its premises and, on Saturdays, hands out rice and groceries to some 2,000 poor families.
Said Mr Tan: "Each year, we receive about $10 million in donations from the public and it is our duty to make sure the money goes to those in need."
His priority is to strengthen devotees and members' confidence, and promote Buddhist teachings and Chinese culture. "Some of our classes were suspended after the late president fell ill in 2013, and we must revive them soon," he added.
Another task is to recruit more capable people to work for the temple, which runs two traditional Chinese medicine clinics and two family service centres. He is also overseeing the rebuilding of a five-storey Buddha Hall and wants to ensure it is finished at the end of next year.
An election for new board members and president will be held in June. Mr Tan hopes to be re-elected. "All I want is to see the Singapore Buddhist Lodge continue to serve the needy," he said.