Singapore: Many seekers drawn to Buddhism
By April Chong, The Straits Times, Aug 9, 2008
Singapore -- BUDDHISM, at 2,500 years old, is still the top choice among those in search of spirituality in this urban nation. Census figures in 1980 and 2000 indicate that Buddhists are growing fastest in number as well.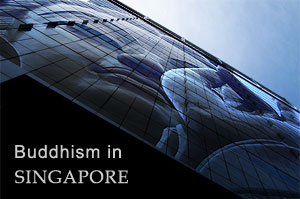 Buddhism may have lost some of its flock to the Christian camp, but it seems to be more than making up for this by gaining converts among those seeking 'time out' from stressed-out lives.
In a Straits Times survey of almost 1,000 respondents, 11 per cent of 200 former free-thinkers said they were now Buddhists; Christianity won slightly fewer converts - 10 per cent - from among the free-thinkers.
A spokesman for the Kong Meng San Phor Kark See Temple on Bright Hill Drive has seen a three- to four-fold jump in the number of devotees on feast days, from about 1,000 a decade ago to several thousand now.
And temples are pulling in families rather than just old folk.
The ritual head of Toa Payoh's Seu Teck Sean Tong, Mr Joe Lim, 42, said he believed that young people were turning up with their parents or grandparents, in search of 'a way to let go of their pressure from work'.
It helps that the Buddhist centres here are conducting more programmes in English, which has brought younger people to a religion that used to be seen as one for the Mandarin- or dialect-speaking.
The religion's publicity drive, through seminars, camps, publications and the Internet, has also made a difference, said Singapore Buddhist Federation President Venerable Kwang Sheng.
Latter-day fads linked to Buddhism - yoga, meditation and the emphasis on calm - have also won the faith of new followers. Zen Buddhism, for instance, is seen as hip, courtesy of its celebrity following.
To cater to the growth of Buddhism, temples and Buddhist centres have been opening up or expanding their meditation classes in the last 10 years.
Fourteen out of 20 temples and Buddhist centres checked run such classes. That some also hold sessions on stress and career management, and even monthly sessions on alternative therapies like reiki, shows the effort put into being relevant to their followers.
Among the three main schools of Buddhism here (see box), Tibetan Buddhism seems most popular with the younger crowd, many among whom have been drawn by the teachings of the charismatic Dalai Lama and his 'kindness and compassion'. Nearly six in 10 Buddhist converts say the religion gives them purpose and meaning, or has seen them through a crisis or spiritual experience.
Housewife and former free-thinker Emmeline Ang, 33, started going to Buddhism classes five years ago 'in search of spirituality' and to find out whether 'there is more beyond materialism'.
Now, besides offering incense at her home altar daily, she goes to her temple almost every day to venerate the Buddha and to volunteer in temple activities.
Among Buddhists are nominal or formerly non-practising Buddhists who have returned, like Mr Lee Jin Hwui, 32.
He was doing well in his career in human resources, but was seeking a deeper meaning to life, beyond 'moving from one material achievement to another in a fast-paced society'.
Buddhism has given him a new centredness in the last year and brought him closer to his family and friends, he said, adding: 'I am now calmer and reflect a lot more. It has helped me in my job.'
Venerable Kwang Sheng also vouches for Buddhism's 'openness' to people of other faiths as a factor that makes entering it easy. The temples welcome the curious, and do not insist that one's own beliefs be discarded.
Social outreach executive Boey Lai Wan, 30, for instance, sees Buddhism as a set of philosophies she can apply, rather than a 'religion'. She said: 'I see it more as a way of life because it's logical.'
Facts and figures of Buddhism in Singapore
THE three major schools of Buddhism in Singapore are:
Mahayana Buddhism
Brought here by early Chinese immigrants and is the main practice of the Chinese. Followers strive towards the attainment of enlightenment or Buddhahood and place emphasis in the cultivation of compassion and wisdom.
Tibetan Buddhism
Originating in the Tibetan and Himalayan regions, it is getting popular among the younger set here. Like the Mahayana followers, they also strive to attain Buddhahood, but they do more mantra chanting and meditation.
Theravada Buddhism
This school of Buddhism, the oldest, was brought here by the Thais, Burmese and Sri Lankans. Its followers believe every person is responsible for his own liberation. The practice of concentration and insight meditation are key.
# One-third were converted by relatives and another third by friends and colleagues
# 35% became Buddhists to seek purpose and meaning in life
# 74% would marry someone of a different religion
# 27% expect their children to follow their religion