'Freed' animals face death
AsiaOne, May 7, 2009
Singapore -- Releasing animals into the nature reserves and reservoirs is a well-meaning act, but it may have adverse effects on the ecological balance in our nature reserves and parks, as well as the water quality of our reservoirs.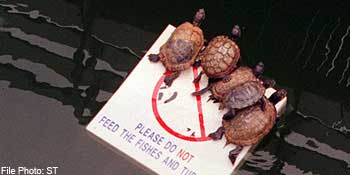 As Vesak Day approaches, the National Parks Board (NParks) and PUB, the national water agency, has issued a statement reminding the public not to release animals into nature reserves and reservoirs.
Ms Sharon Chan, Assistant Director at NParks, explains, "Most people do not realise that releasing animals means sending them to their deaths. One recent incident I encountered was the release of a few soft-shell terrapins. They were not equipped to survive in the wild, and died on that very day.
Should these animals harbour viruses, they will contaminate the water and affect other native wildlife. We want to appeal to everyone to refrain from releasing your pets or animals into the wild."
Mr Chan Chow Teing, PUB's Senior Deputy Director of Catchment and Waterways, adds, "As the fishes and animals may not be able to survive on their own, releasing them not only affects the ecosystem but also the reservoirs' water quality.
Although treating the water for drinking water supply is not an issue, it is important to keep the waters clean for aesthetic and recreational reasons, so that everyone can continue to enjoy activities at our reservoirs and parks."
Ms Angie Monksfield, President of Buddhist Fellowship, further clarifies the link between Buddhism and kindness towards animals, "Being kind to animals is one of the core practices in Buddhism. However, freeing animals into the wild, especially those that have been bred in captivity, is not necessarily a kind act as these animals would be easy prey for predators.
In some cases, they end up disrupting the ecosystem, thus affecting native animals in their habitat and in turn being cruel to the existing animals in the wild. Buying trapped animals to free them will also encourage the trade, causing more animals to be trapped. Instead, kindness towards animals can be achieved by reducing or eradicating the consumption of all kinds of meat, adopting and caring for animals from shelters, helping injured animals and preserving their natural habitats."
To remind the public not to release animals, members of Buddhist Fellowship, school students and volunteers from all walks of life will be distributing brochures and putting up posters at MacRitchie Reservoir Park, Lower and Upper Peirce Reservoir during the last two weekends of May.
In addition, the students of Raffles Girls' School will be designing educational posters and putting them up at MacRitchie Reservoir Park's bandstand.