Multi-coloured Buddhists
The Straits Times, August 24, 2009
Singapore -- FIRST, in gold; then red, and saffron, the monks sat in tight rows at the Wat Ananda Metyarama Buddhist Temple in Bukit Merah.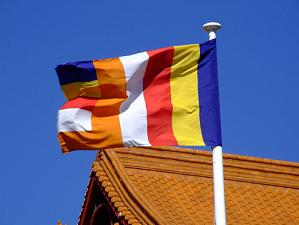 The colour of their robes represented each of the monks' Buddhist faiths respectively: East Asian Mahayana Buddhism, Tibetan Buddhism, and South-east Asian Theravada Buddhism.
With their palms pressed together in prayer, the 30 holy men – though differently shaded – were a vision of uniform serenity.
The 300 devotees who followed them on Sunday morning to witness the temple's inaugural National Day Celebrations were much less homogeneous.
Among the locals were Buddhists from Lao, Sri Lanka, Vietnam, Thailand and Cambodia. A few were visitors, but most were temporary workers, or residents for whom Singapore was now home.
Throughout the day, pockets of conversation, in various tongues, were heard in the temple in the corner of Jalan Bukit Merah and Silat Road.
The incongruity of it all seemed to bother no one.
Many, like housewife Linda Chia, 46, saw little difference between herself, a Singaporean, and the other Buddhists who sat around her. In fact prior to praying at this Thai Buddhist temple, she had been a member of a Burmese Buddhist temple in Pasir Panjang.
"As Buddhists, we are all friends," she said, before adding that any suggestion to the contrary would be unthinkable. "We are all here to pray, to learn about the dharma. We are the same."
Mrs Chia's words would please Venerable Phraku Siphon Buddhikun, who put together the event, he admitted, belatedly.
Venerable Phraku, a Singaporean who is also a vice-president of the Thai Sangha Samatcha Council (Singapore), said he decided after the nation's Aug 8 celebrations to use National Day as a way to reach out to the temple's large South-east Asian Theravada Buddhist communities.
The majority of Singapore's Buddhists are Mahayana Buddhists.
"We want more people of different minorities to come under one flag; for all to celebrate with us this meaningful event together."
He added: "It was a last-minute decision, that's why we are a few weeks late."
In fact the event could not be more timely.
Since May, several politicians have come out to stress the importance of inter-faith understanding among Singapore's multiple religious groups in the current downturn.
During this month's National Day Rally, Prime Minister Lee Hsien Loong repeated the message, warning against the risks of intolerance and exclusiveness by religious groups amid rising religiosity.
The temple's celebrations on Sunday took the political rhetoric further.
By bringing together monks and devotees of the Singapore Buddhist Federation (SBF), the Tibetan Zurmang Kagyud Buddhist Centre and more than a dozen Theravada Thai Buddhist temples here, the event's organizers hoped to create more dialogue and awareness among Singapore's various Buddhist groups.
Intra-faith networking is paramount, said Venerable Guang Ping, assistant-secretary general of the SBF, as he sat with me during lunch after the event.
"Buddhism can be extremely diverse – culturally and doctrinally – depending on where you're from.
"We have different ways of thinking, different opinions, about how things should be. By spending time together, we can understand our differences better.
"With more understanding comes trust, and we will be less likely to regard others' motivations with suspicion."
Venerable Guang Ping makes a great point. Ideological and doctrinal tensions can exist within the same religion as much as between religions.
When it comes to the dangers of religiosity, it is worth reminding the nation's religious groups, which are often drawn along racial lines, that intolerance is colour-blind.
Every Singaporean should take care to guard against it – no matter the colour of their skin, or the shade of their religious robes.