Singapore PM Lee confident Buddhist community will help keep society harmonious
By S Ramesh, Channel NewsAsia, November 20, 2009
SINGAPORE -- Prime Minister Lee Hsien Loong, speaking at the opening of the S$12 million new building of the Singapore Buddhist Federation on Friday, said he is confident that the Buddhist community here will help maintain a harmonious, cohesive and compassionate society.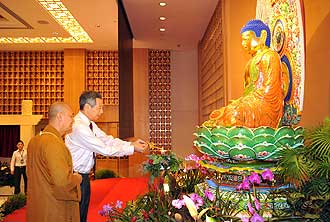 << PM Lee Hsien Loong lights a candle at the foot of a statue at the newly opened Singapore Buddhist Federation building in Geylang. Beside him is Venerable Kwang Sheng, President of the Singapore Buddhist Federation. -- ST PHOTO: JOYCE FANG
"You contribute to the basic tone of Singapore society and the general mood of tolerance and understanding amongst the different communities, and this has helped to maintain racial and religious harmony," said Mr Lee.
Buddhists in Singapore form one of the largest religious groups in the country, and Buddhist organisations have been reaching out to younger Singaporeans through community services and social networking sites like Facebook.
The Singapore Buddhist Federation, which is the apex umbrella body of the Buddhist community, has been playing a strong community role. It has been conducting classes and student care centres, as well as running clinics and rehabilitation centres.
The federation has also raised funds for cultural organisations and for causes such as earthquake relief. All these efforts, Mr Lee said, have benefited Singaporeans, regardless of race and religion.
The prime minister added that the federation is a valued partner in the government's community engagement efforts.
It sits on various national forums such as the Presidential Council for Religious Harmony, the National Steering Committee on Racial and Religious Harmony, and it supports the inter-racial and religious confidence circles.
In his speech at the event to the mark the federation's diamond jubilee, the president of the organisation, Venerable Sik Kwang Sheng, emphasised that as Buddhists live in a multi-racial and multi-religious society, it is important for them to promote activities which foster harmony and understanding.