Indonesia Islam leaders stir row over 'Buddhist' Chinese New Year
AFP, 10 February, 2013
Jakarta, Indonesia -- As Indonesia and other countries with Chinese diasporas welcome the Year of the Snake, some Islamic leaders have ignited a religious row by declaring the celebrations "haram" and off limits for Muslims.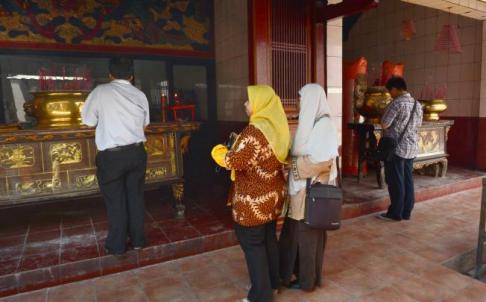 << Two Muslim women visit a Buddhist temple in Jakarta. Photo: AFP
After decades of repression under the dictatorship of Suharto, who rose to power after a bloody purge of communists and Chinese in the late 1960s, Chinese-Indonesians are now accepted in mainstream society of the largely Muslim nation.
Lunar New Year is also now a public holiday in Indonesia, where it is known as "Imlek".
But a local leader of the country's top Muslim clerical body has declared the celebration "haram" (forbidden), saying its rituals are tied up with Buddhist practices, particularly those that take place in temples.
"We cannot separate religion from culture, so we're being cautious," Zainal Arifin, head of the Indonesian Ulema Council in the city of Solo, told news agency AFP.
"And if it's part of a religious ritual, we must not celebrate it. It's the same case with Christmas and other religious celebrations."
The hardline Islamic Defenders Front (FPI) said clerics would spread the message to Muslims through mosque loudspeakers, and warn Chinese-Indonesians not to invite Muslims to celebrations.
But ethnic Chinese leaders say such comments about a traditional festival are illogical and a sign of outdated thinking in some Islamic organisations.
"Chinese New Year is not a religious celebration and it's especially not a Buddhist celebration," said Andrew Susanto, president of the Chinese-Indonesian Youth Association.
He said marking the Lunar New Year was no different to celebrating the new year in other cultures.
"I don't think that's what most Indonesians think," he said, adding the festivities have over time become an Indonesian tradition.
Despite the cleric's comments, a Javanese-style Lunar New Year celebration was held in Solo last week, with thousands joining a procession akin to those commemorating Islamic holidays.
Local monks released 888 songbirds and catfish – eight being a lucky Chinese number – and distributed cakes to the jovial crowd.
Chinese-Indonesians make up around nine million of the nation's 240 million people, most practising Christianity, Buddhism or Confucianism.
Suharto, who ruled Indonesia with an iron fist for more than three decades until 1998, banned Chinese languages and symbols, and forced Chinese-Indonesians to change their names.
His rule began after an anti-Communist purge in 1965-1966, in which at least 500,000 people considered communists or sympathisers – many Chinese – were killed and others tortured. Rights activists say two million perished.
Abdurrahman Wahid, an Islamic religious leader and politician who became the first elected president after Suharto stepped down, lifted the ban on Chinese culture in 2000, allowing ethnic Chinese to once again openly celebrate Lunar New Year.
In Glodok – Jakarta's Chinatown which was reduced to rubble in the 1998 riots at the end of Suharto's rule – two Muslim women wearing headscarves soaked up the atmosphere, as vendors sold traditional red money envelopes and cobra oil to mark the Year of the Snake.
"I'm Muslim, so I don't myself take part in celebrations," said one of the women, Widi Astudi, 37, as she visited a Buddhist temple Friday.
"But Indonesia is a tolerant country, and the Chinese here are Indonesians, so there's no harm in visiting the temples and appreciating how they celebrate."