Attack fears prompt heighted security at Indonesia's Buddhist sites
Al-Jazeera, August 8, 2013
Thousands of police deployed after recent violence, thought to be motivated by plight of Muslims in Myanmar
Jakarta, Indonesia -- Security measures were stepped up at Buddhist sites in Indonesia on Thursday amid fears of fresh attacks just days after a temple bombing and as tens of millions of Muslims across the country mark the end of Ramadan.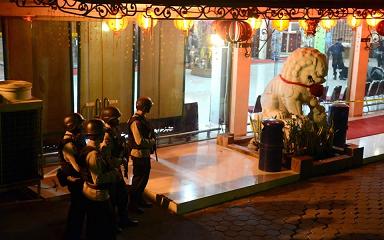 << Armed police secure the compound of the Ekayana Buddhist Centre in Jakarta early on Aug. 5, 2013 after an explosive device went off late Aug. 4.AFP/Getty Images
Ronny Sompie, a national police spokesman said more than 140,000 police have been deployed across the country in the past week to guard against attacks at sites deemed vulnerable following a small explosion on Sunday outside the Ekayana Buddhist temple, which was packed with devotees praying in the capital Jakarta.
Three people were injured in the incident, the Jakarta Post reported.
Two other devices failed to detonate and Indonesian officials have said the attack appears to have been carried out by militant Muslims angry over sectarian violence in Buddhist-majority Myanmar and the plight of the persecuted Rohingya Muslim minority there.
"Indonesia has the resilience to cope with terror ... but we should not underestimate it," Mohammad Mahfud, former chief justice of the Constitutional Court, told the Associated Press on Thursday outside a mosque in Jakarta. "It still remains a concern for us."
The explosion stirred fears that radicals could be poised to launch further attacks during Eid al-Fitr, a three-day Islamic holiday marking the end of Ramadan.
The past week has seen an exodus from cities in Indonesia, the world's most populous Muslim-majority nation, with people taking to cars, boats and planes to head home to their families across the archipelago of more than 17,000 islands.
National police chief Gen. Timur Pradopo said he mobilized thousands of officers to help safeguard the millions of people traveling.
Police also stood guard at mosques, churches and temples in many cities. Fireworks exploded Thursday night across the capital, with hundreds gathering in a landmark traffic circle downtown to watch the impromptu displays.

Authorities in Central Java also tightened security around Borobudur, an ancient Buddhist temple and a major tourist site.
Sidney Jones, a Jakarta-based terrorism expert from the Institute for Policy Analysis of Conflict, warned there could be further attacks.
"The problem is that temples are unfortunately an easy target, and young militants have always been opportunistic in their actions," she said.
Last month, a series of blasts hit three Buddhist sites in the Indian state of Bihar, injuring at least two people and drawing widespread condemnation.
Persecuted minority
Meanwhile, anger over the situation of the Rohingya, who the United Nations considers to be one of the world's most persecuted minorities, has escalated in Indonesia in recent months, with police uncovering a plot to bomb the Myanmar embassy in Jakarta in May and hardliners calling for "jihad in Myanmar" during demonstrations.
In a seperate incident, police in Thailand used a water cannon to prevent scores of Muslim Rohingya boat people from Myanmar breaking out of a detention centre on Thursday to celebrate the end of Ramadan, officials said.
Two waves of unrest between Muslims and Buddhists in the Rohingya home state of Rakhine last year left many dead and tens of thousands - mainly Rohingya - displaced. Thousands of Rohingya boat people -- including women and children -- have fled the former junta-ruled country since the clashes.
Those who arrived in Thailand have been "helped on" by the kingdom's navy towards Malaysia -- their destination of choice -- or detained as illegal immigrants.
Thailand initially said the asylum-seekers would be allowed to stay for six months while the government worked with the UN refugee agency UNHCR to try to find other countries willing to accept them.
But overseas help has not been forthcoming so far, leaving the refugees in limbo, and separated from their families.