Buddhists 'Asadha' to be observed
The Jakarta Post, July 22, 2005
MAGELANG, Central Java (Indonesia) -- Commemorating the Buddhist celebration of Asadha, the Buddhist community is to hold the Sejuta Pelita Sejuta Harapan procession at Borobudur Temple on Saturday.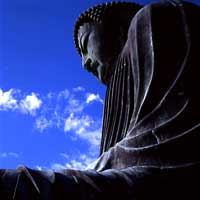 Asadha celebrates the first rotation of the Buddhist Dharma wheel when Buddha first spelled out his teaching to five Buddhist monks.
According to chairman of the organizing committee Djunaidi, the procession will start at 5 p.m. by taking the holy flame from Mrapen, with the lighting of a million candles at the peak.
"We shall light a million candles for the ruwatan (exorcism ritual) for the nation. The objective is to pray for the safety of the nation and of the world," said Djunaidi, adding that the celebration was also intended to greet the 60th anniversary of Indonesia's independence.
That is also why, Djunaidi says, although the Sejuta Pelita Sejuta Harapan is held to commemorate the Buddhist celebration of Asadha, representatives from other religions, including from Islam, Catholicism, Protestantism and Hinduism, will also participate.
These will include Abdurrahman "Gus Dur" Wahid of Nahdlatul Ulama, Ahmad Syafii Maarif (Muhammadiyah), Franz Magnis Suseno (Catholic). The ministers of Religious Affairs and Tourism, Central Java governor and Yogyakarta governor will also be among other distinguished guests at the event.
"They will all join us in the procession, walking around Borobudur Temple, and praying for the safety of the nation," Djunaidi said.
Various traditional performances including gamelan and traditional dance from across the country, said Djunaidi, will also be performed during the opening ceremony held ahead of the candle-lit procession.
"We consider this to be a way of showing that the community is concerned about difficulties that the nation is going through," he said.