Tzu Chi to ship 500 tons of rice to Earthquake disaster area
ReliefWeb (Source: Taiwan Buddhist Tzu Chi Foundation), May 28, 2006
Jogjakarta, Indonesia -- Taiwan Buddhist Compassion Relief Tzu Chi Foundation (Tzu Chi) is to send first 100 tons of the 500 tons of rice aids to the Indonesian Earthquake disaster area on 29 May. Currently, the Tzu Chi relief and medical teams are providing medical assistances at various Bantul locations as well as assessing the conditions.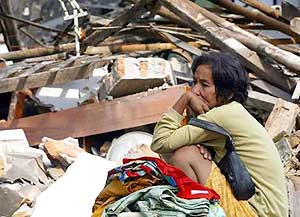 << City of ruins: a woman looks at the rubble where her house in Jogyakarta once stood. The earthquake hit just before 6am Indonesian time.
Photo: Reuters
After arriving at Yogyakarta at noon 28 May, the relief and medical team have met with the head of the Bantul County to discuss possible aid programs. The team consists of volunteers and medical specialists as shown in Table 1.
To relief the needs of the disaster areas, Tzu Chi have shipped relief goods via air and land on 27 and 28 May, as shown in Table 1. In addition, 17 tons of rice has been provided to the central kitchen. The first of the five 100 tons rice batches is departing on 29 May for the disaster area.
Additional 60 local Tzu Chi volunteers are schedule to join in the relief and medical team on 29 May.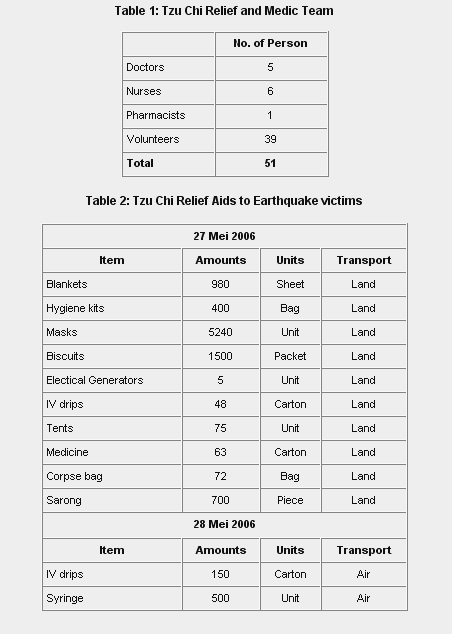 The Bantul local authorities have requested Tzu Chi to provide medical assistances at RS Baru TNI hospital and six locations: Gandong, Gumuh, Batur Patalan, Dukuh Sukun, Srihardono, Kiringan and Sekolah Dasar.
Many residents have left Bantul disaster area, leaving those unable to leave for various reasons remaining. With the continuous rain, the muddy grounds have hindered relief works including rescuing those still buried as well as the construction of tents.
Tzu Chi hopes by providing rapid relief aids to the disaster area, the residents can recover from the devastating disaster as soon as possible.
For further information, please contact:
Ming-Shan Chou (Mr.), +886-3-826 6779 ext.343
International Charity Affairs Office
Taiwan Buddhist Compassion Relief Tzu Chi Foundation
Email: mingshan@tzuchi.org.tw
Pompi Junes (Mr.), +62-21-6016332
Yayasan Budha Tzu-Chi Indonesia
Email: pompyjunus@id.tzuchi.org