Indonesia tsunami victims help earthquake victims
Source: Taiwan Buddhist Tzu Chi Foundation, May 29, 2006
Tzu Chi volunteers inspire previous recipients to become benefactors
Jogjakarta, Indonesia -- South Asia Tsunami victims showed their benevolent actions to the Central Java Earthquake victims when volunteers of Taiwan Compassion Relief Buddhist Tzu Chi Foundation Indonesia Branch appealed for their goodwill.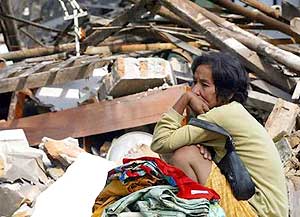 Tzu Chi has setup a relief centre in Yogyakarta Air Force Hospital to coordinates its relief and medical missions at the Bantul area. 30 local Jakarta volunteers and 10 other Surabaya volunteers are schedule to arrive at the disaster area on the 30 May, to join the 48 Tzu Chi medical and relief team currently serving at the disaster area.
In Aceh No. 3 Great Love Village, a permanent housing built by Tzu Chi for the South Asia Tsunami victims, the residents took the opportunity to help the Earthquake victims and become benefactors themselves in this time of need.
With the Earthquake causing devastating damages to central Java, the residents said that they felt the responsibility to do their share in helping the victims, just as the Tzu Chi helped them when the Tsunami happened.
In Bantul, many victims had smiles on their faces after the Tzu Chi medic and relief team attended to both their injuries and their unsettling hearts.
A 30 year old woman, seeking treatments for her fractured bones, entered the Tzu Chi Imogiri clinic with a sorrowful expression. The medic personnel cleansed and plastered her injuries swiftly, but also left encouraging messages of her plaster, encouraging her to stand up again and become a happy person. She left the clinic with a bright smile on her face.
Many similar stories took place at the Tzu Chi free clinic. While the relief goods and the medical treatments helped to ease the injuries, it is the encouragement and care that the volunteers provided that soothes the traumatized hearts.
An elderly woman came into the Tzu Chi Imogiri clinic with her wounded hand already showing signs of infection. After the nurses patiently cleansed and treated her wounds, the volunteers then comforted her and provided her with a meal. When asked to visit the local hospital for follow-ups, the elderly women replied, "Can I come back here instead? It didn't hurt at all when you treated my wounds and you have volunteers who talk to me."
One patient showed his appreciation and brought fruits to the clinic to thank these caring volunteers.
Tzu Chi is currently assessing possible international Tzu Chi medical and relief missions to the Earthquake area.