Waisak Day at Borobodur, a Buddhist pageant
Xinhua News, June 2, 2007
Jogjakarta, Indonesia -- On the first day of June, the millennium-old Borobodur Temple in Central Java of Indonesia was alive with Buddhist monks from the world over. They were here to celebrate the Waisak Day, the day that commemorates the birth, enlightenment and death of Buddha.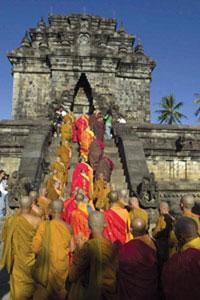 From 1 pm local time, Buddhists from dozens of Buddhism organizations in Indonesia and other countries, along with colorful flags, decorated cars, sedans loaded with fruits and foods, started a five-kilometer pilgrimage journey from Mendut Temple to Borobodur. Many tourists also joined in the procession.
Along the way, some senior monks in saffron robes sitting in a ship-shaped car threw leaves of flowers to the people, who were also holding bouquets in hand.
"Today is Buddha's birthday, so I came here to celebrate the important holiday. It's my first time to be in Borobodur to pray," said a Chinese Indonesian woman who gave her family name as Huang.
Emma, a tourist from the Netherlands, said she did not expect to meet with such a grand celebration. "Actually, I just come to Indonesia for a week long holiday. I even did not know the Waisak Day a day before. But fortunately I joined in the march and celebration today," she said with a happy smile.
Besides the marchers, there were also hundreds of thousands of local citizens standing beside the road watching with joy. Although over 90 percent of Indonesian people believe in Islam, the Yogyakarta citizens were very open minded to Waisak Day.
"I've been living here since I was born. It's not only a happy holiday for my family, such an event can also help boost the local economy,"said 34-year-old Budiman.
When the procession arrived at the Borobodur Temple, the marchers began to pray in front of a temporary figure of Buddha at the root of the complex.
The largest Buddhist monument in existence with over 1000 years of history, Borobodur is a UNESCO World Heritage Site. It's considered a Wonder of the World which took 100 years and three generations to build.
"We come to Indonesia to revive Buddhism in Indonesia, which was once the center of the religion in Southeast Asia,"said Nicholas Thanissaro, a Briton who entered into Buddhism in Thailand.
In the evening, artists from Thailand, Cambodia, Laos, Myanmar, Indonesia and Vietnam staged an art performance named "Imaging Buddha," which in 6 chapters told of Buddha's whole life and final nirvana.
Indonesian President Susilo Bambang Yodhoyono, who attended the celebration, said in a speech that by co-celebrating the Waisak Day, a very important religious festival, Indonesia, Southeast Asia and even the whole world would realize the final purpose of human living, namely peace, harmony and happiness.
When the full moon was hanging in the sky, shining white light onto the smooth stone exterior of the ancient temple, hundreds of candles in plastic mantle were lit and the monks began walking around, praying, meditating and chanting well into the holy atmosphere -- a vision that one will never forget.