Indonesia: 'Buddha Bar' Pressured To Close
By ANTHONY DEUTSCH, AP, March 13, 2009
JAKARTA, INDONESIA -- The hip French lounge chain Buddha Bar is under pressure to close its only Asian branch amid corruption accusations and protests by Buddhists who say the use of their religious symbols are blasphemous.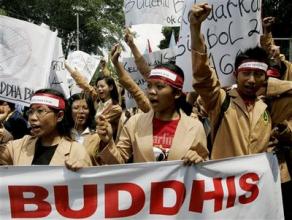 << Buddhist students shout slogans during a protest outside a hip French lounge chain Buddha Bar in Jakarta, Indonesia, Thursday, 5 March 2009. (Photo courtesy: AP Photo/Tatan Syuflana)
Since the Dec launch of the club in Jakarta, Buddhist students have demanded it be shut down, with dozens burning incense and praying outside. An independent corruption watchdog said Thursday (12 March) the venue, an elegant Dutch colonial-era building, was purchased and renovated with nearly $2.9 million in public funds before being turned into a private commercial enterprise under questionable circumstances.
Several people involved in the project have ties to the political elite.
With cathedral-high ceilings, a cavernous restaurant upstairs has an 18-foot (six-meter) Buddha overseeing seating for 240. A cocktail club downstairs _ like branches in New York, London, Dubai and Kiev _ throbs with lounge music. It has quickly turned into a hotspot for the young and wealthy.
Opposition to Jakarta's Buddha Bar escalated this week when Indonesian Religious Affairs Minister Maftuh Basyuni asked the French operator, Paris-based George V Hotels and Resorts, to consider closing down or changing the name.
"If not, I'm afraid there will be an Islam Bar, Christian Bar, and other bars," he was quoted by the Antara state news agency as saying Wednesday (11 March). "This is important for harmony among religions."
Jakarta's Legislative Council repeated requests to shutter the club, saying it would be the best way to ensure Buddhists are not offended. Protesters say it is wrong to associate Buddha with a bar because the faith prohibits alcohol.
Repeated phone calls and messages to managers of the Jakarta Buddha Bar went unanswered Wednesday and Thursday, and a spokesman for the city of Jakarta declined to comment.
The club is jointly run by the daughter of former Jakarta Gov. Sutiyoso, whose administration approved the building's restoration, and the daughter of former President Megawati Sukarnoputri. Peter Gonta, a powerful businessman and associate of the late dictator Suharto, is also reportedly involved.
Indonesia Corruption Watch said Thursday it has asked the Jakarta city administration to clarify the ownership of the heritage site _ a former immigration office built by the Dutch in 1913 in a prime downtown neighborhood.
"We are worried that there may have been a conflict of interest ... because the club is run by the daughter of the former Jakarta governor," said Agus Sunaryanto, a spokesman for the anti-corruption group. "The city bought the building with the people's money. We have a right to know the circumstances."
With an estimated 200 million Muslims, Indonesia has the largest Islamic population in the world, but it also has sizable Christian, Hindu and Buddhist communities.