Indonesia's Buddha Bar agrees to change name
ANTARA News, March 19, 2009
Jakarta, Indonesia -- Following protests from various Buddhist organizations Buddha Bar on Jalan Teuku Umar in Central Jakarta finally agreed to change its name.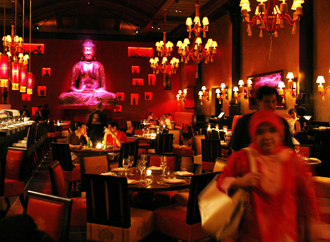 The process has been referred to the owner of the trade mark in France, Jakarta vice governor Prijanto said here on Wednesday.
"The owner of the bar has been willing to look after the process of asking for the name change with the franchiser," he said at the city hall.
He said however the city administration would not close the bar because it did not violate the law. He said that the bar from France even actually could not be demanded to change the trade mark because it was already registered with the directorate general of intellectual property rights of the ministry of law and human rights.
"We cannot do it because they have a patent right," Projanto said.
The directorate general of Buddhist Community Counseling of the ministry of religious affairs Budi Setiawan also stated that the bar would continue to operate as usual.
The chief of the directorate, Budi Setiawan, asked Buddhist community members to be wise, calm and peaceful with regard to the settlement of the problem and to avoid anarchy.
"Since it first appeared the office has taken steps to find a way out," he said.
He said he had already facilitated a meeting between the Jakarta administration that issued the business permit, the owner of the restaurant namely PT Nirety Vista Creative and representatives of the Indonesian Buddhist Community (Walubi) as well as other Buddhist social organizations.
Based upon the results of the meeting measures would be taken including asking the Jakarta administration to review the bar`s permit.
"The Jakarta administration has stated that no violation has been done," he said.
Since its opening in November 2008 the bar had been frequented by demonstrators for at least three times. The demonstrators had asked for the bar not to use the name Buddha and also Buddhist ornaments.