Indonesian Buddha Bar drops name: management
AFP, Apr 22, 2009
JAKARTA, Indonesia -- The first Asian branch of the chic Paris-based Buddha Bar has dropped its name amid complaints by Indonesian Buddhists that it denigrated their religion, the management said Tuesday.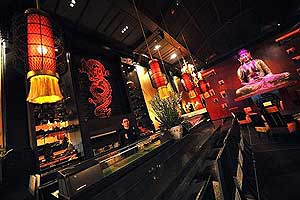 << A giant Buddha statue on the second floor of the "Buddha Bar" in Jakarta in March 2009
The Jakarta franchise of the bar-cum-restaurant, opened in a historic colonial-era building last year, said in a statement it dropped its name "out of respect" for the country's religion minister and did not mean to offend Buddhists.
"There has been no intention to hurt the feelings of Buddhists in Indonesia. Taking down the Buddha Bar is as a form of respect to the Religious Affairs Minister Maftuh Basyuni," manager Henry Marheroso said in the statement.
The bar has changed its name to Bataviasche Kunstkring, the original Dutch name of the building, a former immigration office, it said.
Buddhist activists said the bar had been forced to drop the name after the government's intellectual property agency revoked its right to the local Buddha Bar trademark.
"We are relieved to hear this. But we will make sure their ornaments, the Buddha statue and the Buddhist scriptures on their ashtrays in the bar are also removed. They are very insulting," Anti-Buddha Bar Forum (FABB) lawyer Sunardo Sumargono told AFP.
A statement by the FABB said the group is "considering legal steps to take an official complaint to the United Nations that Buddha Bar nightclubs all through the world soon be shut down forever."
The local branch of the Buddha Bar, famous for its trademark lounge music and Orientalist, Buddha-festooned interior design, has been embroiled in religious controversy since its opening.